With COVID-19 affecting all areas of the world, especially those health care professionals, we're overjoyed to announce that we have partnered with Ford Motor Company and Precision Global Systems to help produce millions of personal protective equipment for all those brave men and women currently working on the front lines against this virus.
On March 20, Ford executives made the crucial decision to start producing much-needed PPE for those in desperate need of medical supplies. Ford's subsidiary, Troy Design and Manufacturing, and their UAW members quickly began making plastic face shields for the front-line workers to help protect them while caring for patients infected with COVID-19. While manufacturing these face shields, Ford knew they need reliable staplers and staples that could help get the job done both quickly and seamlessly.
Reaching out to our team at Bostitch Office, we worked overnight and on weekends to get Ford and their manufacturing team just the products they needed during this imperative time crunch. To date, we have sold Ford 1,000 of our Impulse 45 Sheet Electric Stapler, 1,000 of our Impulse 30 Sheet Electric Stapler and over 21 million Premium Standard Staples!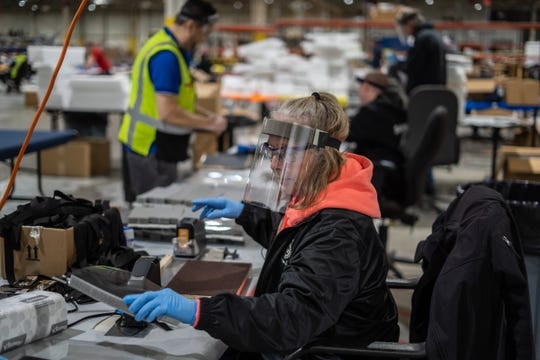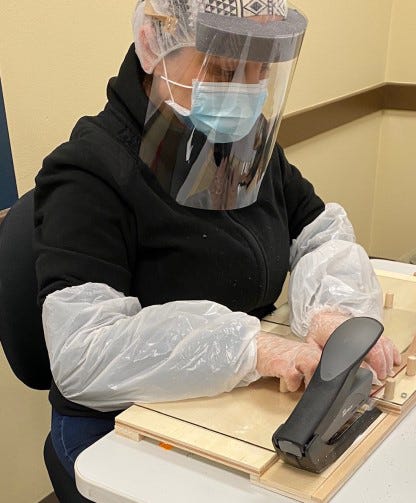 Photo Credit: Precision Global Systems
Working directly with Brian Bickely from Troy Design and Manufacturing, we were able to coordinate multiple overnight pickups with our warehouse team in Georgia assisting to fulfill the orders and help load up the trucks. "We are only successful due to the suppliers supporting us 24/7. We have 172 volunteers per shifts, two shifts, seven days a week," exclaimed Bickley. "Our goal is four million (masks) the week of 4/20." And, thanks to our corporate and warehouse teams, that goal has been reached.
Ford has since manufactured and shipped over 1 million face shields in just 13 days. The protective face shields among other PPE have been donated to medical offices, fire departments, police departments and hospitals across the United States, specifically donating to current hotspots such as New York and Chicago.
Precision Global Systems (PGS) in Troy, Michigan have coordinated with Bostitch Office to help manufacture and sell protective face shields during this pandemic. Purchasing 350 of our Spring-Powered Premium Heavy-Duty Stapler and over 1.2 million Heavy Duty Staples, PGS has transformed its automotive manufacturing operation to produce PPE and help meet the critical needs of medical workers and first responders who are working with this virus daily. Their team is currently producing over 15,000 units per day.
In a time of universal need, our team at Bostitch Office is honored to be a part of the solution in helping all medical professionals and front-line workers receive the support, products and care that they need to continue being the heroes that they are during this difficult time. We salute you, support you and stand with you.