Since August is almost over, teachers and parents know it's time to start preparing the classroom and the students with new supplies for the new school year. We know how stressful it is to be searching the aisles of endless supplies on a day you would rather be spending your time with the kids at the beach. Get your back to school shopping done fast and stress-free at the Bostitch Office website where you can save money with our kid-friendly supplies that are ready to go for the school year!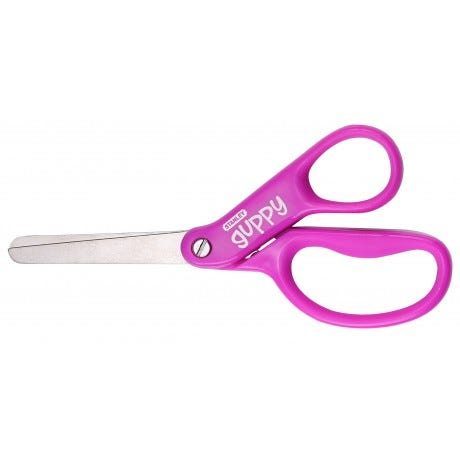 1. Stanley Guppy™ 5" kid's scissors
Made specifically for your preschool and kindergarten-aged kids, Stanley Guppy™ 5" kid's scissors are perfect for safe and fun activities both in the classroom and at home. The blunt-tip kid's scissors, ideal for kids ages four and up, come in a variety of fun colors! This style features kid-safe blade angles, so teachers and parents don't have to worry about accidents. The blunt tips are perfect for any general classroom cutting. The scissors, with built in rulers and nameplates, even come in packs of two for double the efficiency. Watch as your students improve their motor skills through the techniques they will be applying to their cutting-edge crafts!
---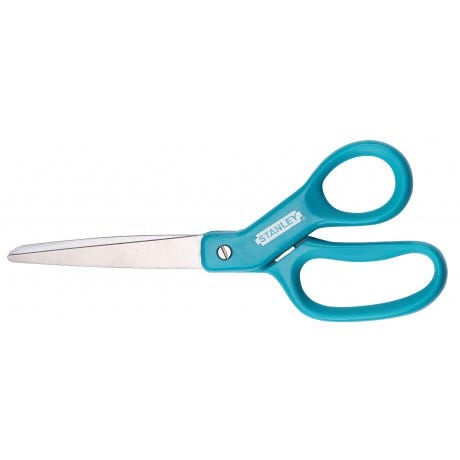 2. Stanley 7" Student Scissors
Have a child going into Elementary School? The Stanley 7" Student Scissors are available for children ages eight and up. The pointed tip makes trimming outlines and shaping arts and crafts more fun, and precise. Plus, the integrated rulers on the all-metal blades allow for quick, accurate cutting. Like that of the Stanley Guppy, the handles of these small scissors feature built-in name tag windows for labeling in busy classroom settings. No more arguments over whose scissors are whose! Students can write in their own names and take responsibility for their own classroom supplies.
---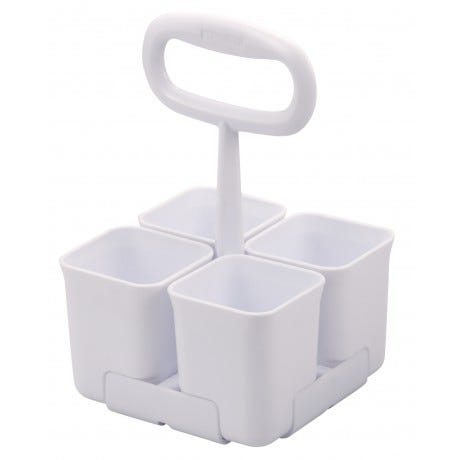 3. Stanley Scissor & Art Caddy
Trying to stock up on supplies for your classroom? Check out our Stanley Scissor & Art Caddy. As a teacher you know arts and crafts can be messy and disorganized. Use the kids scissor caddy in your arts and crafts area so the utensils stay organized while the kids can be free to let their imagination run wild. Each caddy features 4 cups that easily separate for sharing. You can even color code your scissors as we offer a wide variety of colors for your caddy. The accessible handle also makes transporting your scissors safe and easy! Caddys are available without supplies, so teachers or students can personalize them to hold art supplies, pens, pencils and more!
---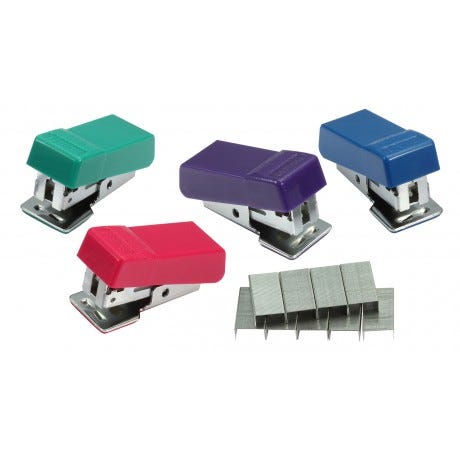 4. Standard Mini Stapler
The Standard Mini Staplers come in assorted colors so students can pick their favorite color to add to their back-to-school collection. They are perfect for easy storing as they are compact and can fit easily in a pencil pouch. They even come with a built-in staple remover to avoid the hassle of carrying around extra supplies. Don't be fooled, this small design can still staple up to 20 sheets of paper!
---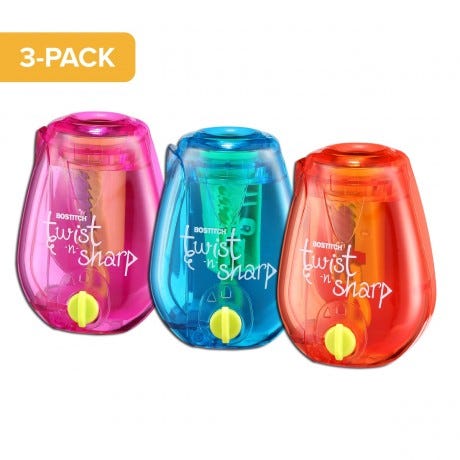 5. Twist-n-sharp kids pencil sharpener
The Twist-n-Sharp Kids Pencil Sharpeners are small and compact, perfect for carrying around the classroom in any school designed pencil box. It even comes with an adjustable knob for sharp or blunt tips and is equipped with Tip saver Technology™ to prevent over sharpening. Choose from our three translucent colors, pink, blue, or orange, to add to your trendy pack of school supplies!
---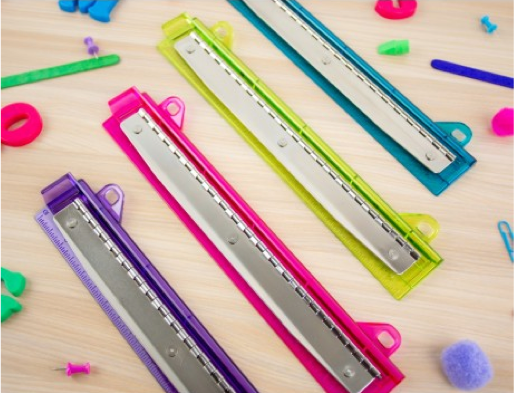 6. Binder 3-Hole Punch, Assorted Colors
With these kid-friendly 3-hole punches, students can slice through up to 5 sheets of paper, keeping their homework organizers throughout their binder. This binder 3-hole punch has a convenient design to fit in a standard 3-ring binder and can be easily stored in a backpack! It even has an integrated ruler for quick measurements. Choose from our color selection of pink, purple, green, or blue to match with your back-to-school theme!
---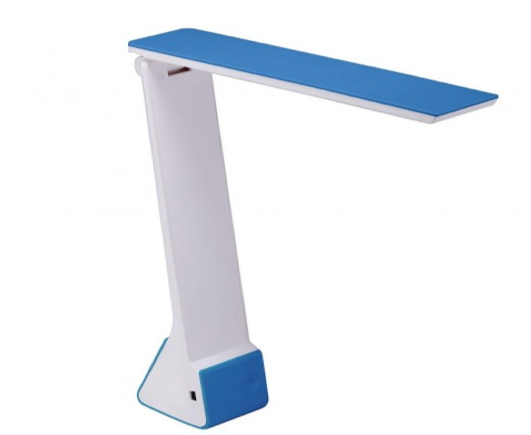 7. Battery Operated Desk Lamp
The Battery Operated Desk Lamp is a perfect assist to have when doing homework! With three adjustable color temperature modes, your kids can use this lamp when relaxing, reading, or working on homework! It's compact, folding design is even more ideal for portability so they can use it at their desk, in bed, or in the living room.
---
8. VASCHY Classic Daypack
The VASCHY Classic Backpack is a lightweight backpack that is perfect for back-to-school and reliable for carrying those heavy-duty school supplies. The affordable backpack is offered in ten different colors so your child can choose a color unique to their style. It even has two water bottle pockets, so you stay hydrated throughout the day. You can find this backpack on Amazon and it's rated at 4.5 stars!
---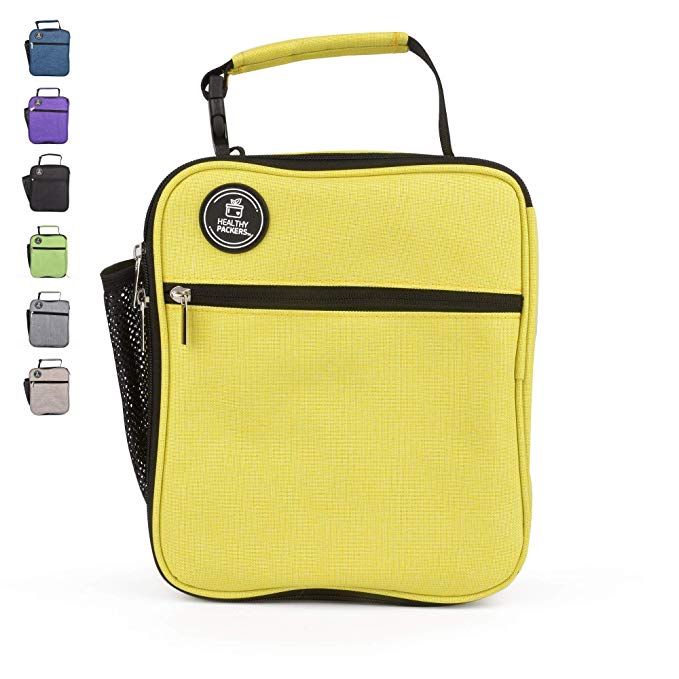 9. Healthy Packers Insulated Lunchbox
Complete the back-to-school essentials look with a lunchbox that will match your backpack and school supplies! Try the Healthy Packers Insulated Lunchbox, a bestseller on Amazon, to send off with your kids as they embark for school. Offered in seven different colors, this lunchbox is affordable, waterproof, and made with eco-friendly insulation materials!
---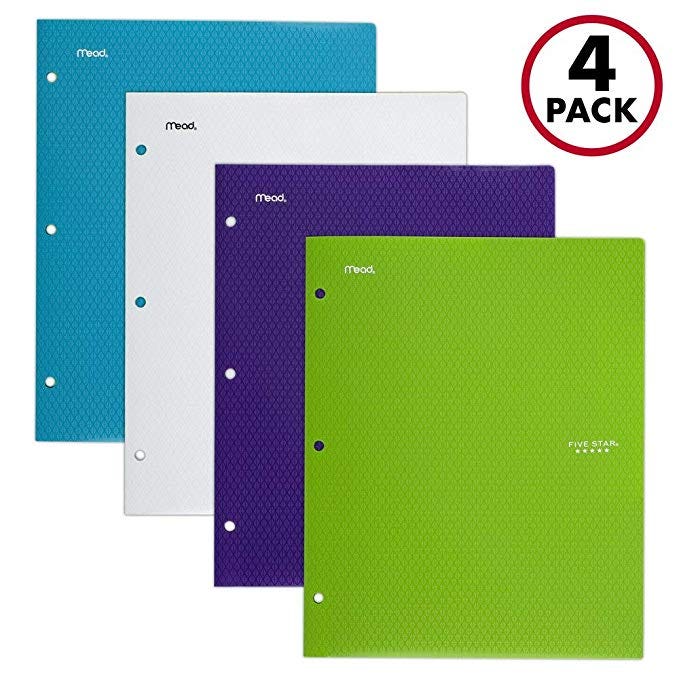 10. Five Star Two Pocket Folders
Looking for folders to organize your assignments for different school subjects? Five Star offers affordable deals for folders that can be purchased through Amazon in packs of four or six! Keep assignments separated by color coding each folder for a specific subject field. These folders are durable and guaranteed to last all year!