April is the perfect time to wake up, open your windows and get down to some Spring cleaning business. While it's common for people to organize their homes every Spring, you don't normally hear of people clearing out their office buildings, the home away from home. Clear out those over packed, hard-to-open drawers and that dusty closet you can't open without anything and everything spilling out.

Of course, the tips in this article are also applicable to the home and classroom, along with any space you own, such as a garage or car. If cleaning one, why not clean all?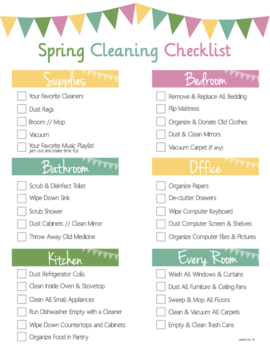 Let's get started!
First, we recommend you start by using the printable Spring cleaning checklist we've provided to the left (click to download a full size PDF!) It preps you to know which supplies you'll need before starting, such as a dust rag and your current go-to playlist, and tells you what exactly to clean, room by room.
Good start...now, let's dig deeper.
Starting off room by room is the best practice. If it's a classroom of a single office, this is a given. However, if you're able to recruit your employees/coworkers, dedicate a day for them to clean their own offices. Have a common room, kitchen or storage closets? Work together to get those refreshed and organized. If you have extra product or supplies you have no idea was ever there, set it aside to what will soon become a pile. We'll discuss what to do with it later.
If it's not loved, claimed for needed, don't keep it.
Have four sharpeners and a plethora of scissors? Unless you're a teacher with a classroom full of children, you most likely only need one. Keep the four-in-one versatile unit, such as this Epic™ stapler, over the three standard units.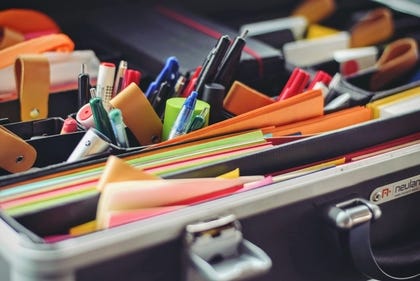 Spray, dust and clean every area you reach. Macro cleaning right down to micro cleaning, which includes testing old pens and markers to see if they should be thrown away. Clock battery dead? It's about time you replace it. Don't forget dusting doors, shelves and windows. (If you want to take it even a step further, clean out the old files and folders on your computer! We won't judge you for going a bit overboard.)

If you think a simple clear out of a handful of materials is enough to fulfill your Spring cleaning duty, you may want to reconsider. Take a look at this DeskTime.com infographic about how dirty your desk can really be. This isn't to scare or discourage you; we simply want you to be as productive and focused as possible, and we know that it all starts with the environment you're working in.
What's next?
Now, that your area is spick and span, let's talk about that pile of no longer needed materials. If everything is reusable and in fair condition, donate it to charity! While you may not find value in it any longer, we're sure someone out there would still appreciate it. Find a local charity or research online for a specific charity that focuses on school or office supplies for those less fortunate. Charity Navigator fleshes out various charities by rating, location and category.

Again, this is all applicable to outside of the office. Your mind will feel clearer, along with the physical appearance of your surroundings. What are your favorite Spring cleaning tasks? Let us know on Twitter!

Happy Spring...cleaning!