If you're in a company office, classroom, or even at home, it's likely that there is a stapler nearby. Staplers are, well, a staple. Staplers have gone through many changes in their development process since being invented, so it makes complete sense that there are now many different types of staplers with various special uses.
Manual Staplers vs. Electric Staplers
Mainly known for fastening paper together, there are two main types of staplers: manual and electric. Manual staplers, as you know, require the operator to apply pressure on the top handle of the unit to force a staple through paper. Electric staplers use a power source to automatically drive the staplers, with no physical effort needed.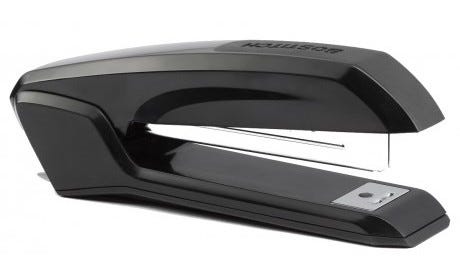 Manual Staplers
Manual staplers are lighter in weight since they're handheld. Essentially, they can be brought and used anywhere, great for on-the-go and to open up for bulletin board tacking. Desktop to heavy duty staplers fall into this category, deeming them highly versatile.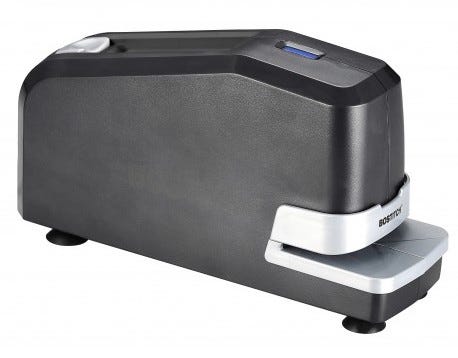 Electric Staplers
If you're looking for minimal-effort unit, look no further. Electric staplers require no force and are great for jobs that require continuous stapling. They are typically larger in size and bind bigger stacks of paper. However, there is a catch. They require a power source to operate and may be trickier to load staples into, unless you're using something with a FastLoad™ push-button reload system!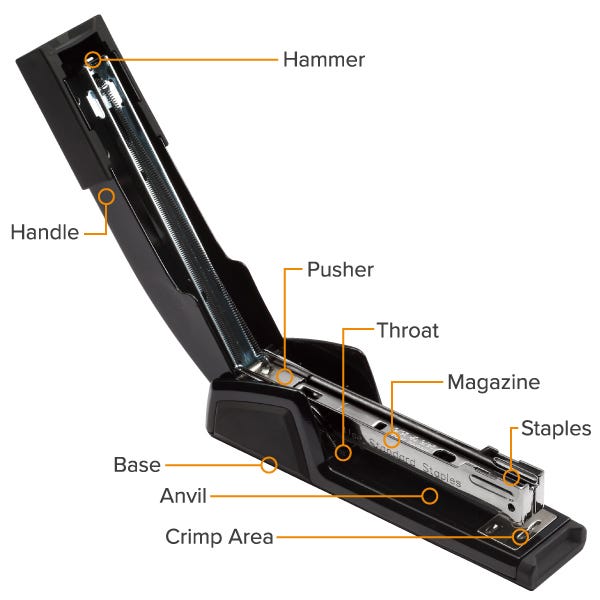 As you could see, there are numerous parts that make up a stapler.
Handle: A key part to operating a stapler, the handle is what you push down to drive a staple out of the unit.

Base: The flat bottom part of the stapler which enhances stability. Depending on which type of Bostitch stapler, it may feature an integrated storage compartment for extra staples.

Hammer: Attached directly to the handle, the hammer is the part that forces the staple out of the stapler and into paper.

Anvil: This term may sound foreign, but really it's just the stapling plate connected to the face plate/crimp area.

Crimp Area (Face Plate): This area bends the staple into place. The plate can be adjusted for standard permanent stapling or temporary stapling. Visit this article to learn more!

Pusher: The pusher simply pushes staples forward in the magazine. Without it, the staples would move around loosely in the unit.

Throat: The throat is the space that you insert paper into to be stapled. For booklets or long documents, you want a longer throat as it has a deeper reach.

Magazine: This area is very important as it holds sticks of staples.

Staples: Staples are the fasteners that hold paper together and are inserted into the magazine. You'll learn more about these later.
Types of Staplers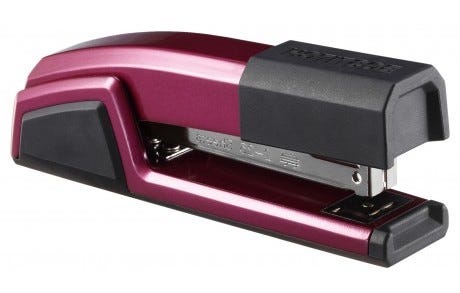 Desktop Staplers
HOME, OFFICE & SCHOOL USE
Perfect for in the office or easy use at home, desktop staplers take on a classic look while providing simple tacking. These units are lightweight for various use and are the most recognized models.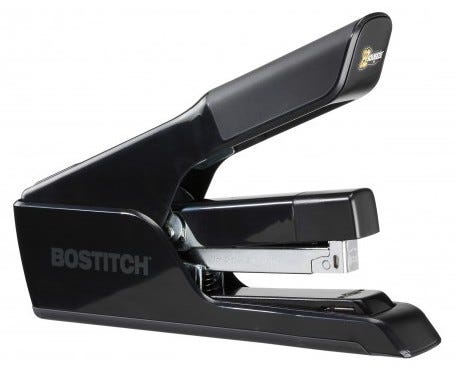 Heavy Duty Staplers
OFFICE & SCHOOL USE
Heavy duty staplers are great for powerful stapling as they staple 40+ sheets at a time, like the EZ Squeeze™ 130 sheet heavy duty stapler, that effortlessly staplers 2 to 130 sheets with a single staple size. Great for common areas such as copy rooms, heavy duty staplers are great for binding together projects such as blueprints and portfolios. These units are larger and heavier in size, and may require special sized staples.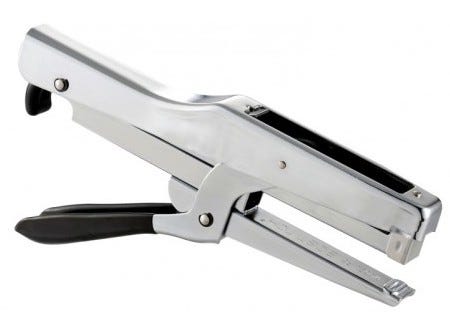 Handheld/Plier Staplers
OFFICE & CONSTRUCTION USE
Plier staplers are the ideal staplers for businesses such as dry-cleaners and warehouses. However, they're also great for mailrooms and schools as they make stapling letters and documents a breeze. They typically have soft, gripped handles for user's utmost comfort.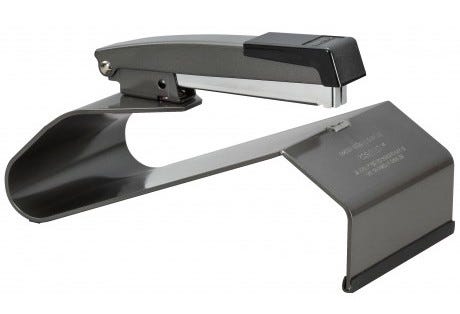 Booklet/Specialty Staplers
HOME, OFFICE & SCHOOL USE
One of the most unique types of staplers is the booklet stapler. Great for tacking together brochures and magazines, or your DIY booklet or bullet journal, booklet staplers feature a long throat to reach the middle of documents. Don't let the appearance scare you; they're user-friendly!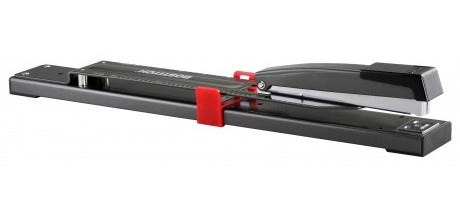 Long Reach Staplers
HOME, OFFICE & SCHOOL USE
Similar to the booklet stapler, a long reach stapler features a deep throat to staple the middle of papers. However, it's more compact and is customizable to fit your documents with an adjustable paper stop and integrated ruler.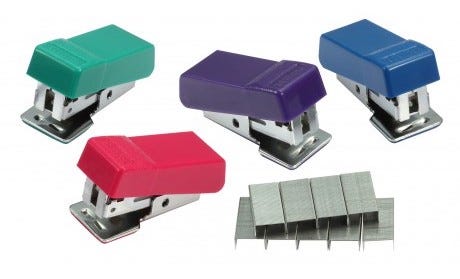 Mini Staplers
TRAVEL & SCHOOL USE
Designed specially for small hands and on-the-go use, mini staplers are great anytime and anywhere. Whether it's a unique craft or standard document, these mini staplers always come in handy. Making them extra unique, they use their own special mini staples and come in various eye-catching colors.
Special Features
Less isn't always more, especially when it comes to special features! Depending on the stapler, it may have one or more of the following added benefits:
Antimicrobial Protection


This feature is great for units shared among many people. With an antimicrobial stapler, you're taking steps to limit the spread of germs and bacteria. Incorporate these staplers in classrooms, offices, or common areas.
Opens for Tacking


Nothing is more frustrating than when you need to tack something onto the wall and learn that your current stapler doesn't open. Luckily, most staplers today open 180-degrees for unique stapling such as for bulletin boards or unique crafting. Teachers - we know this type is your favorite.
No-Jam™ Technology


Bringing ease and confidence to stapling are staplers that feature No-Jam™ Technology. That means that you can staple as much as you want with the assurance that you won't be slowed down by a frustrating staple jam.
EZ Squeeze™ & Ergonomic Grip


If you do a lot of stapling, investing in a reduced-effort stapler that is ergonomically lined is a no-brainer. Requiring less force and delivering more comfort, these two features go hand-in-hand and are among some of the consumer's favorites.
Vertically Standing


Depending on the design of the stapler, certain units stand upright vertically. This makes grabbing it easy and fumble-free, not to mention it saves desk space!
Integrated Luxuries


Features unique to a number of our Bostitch staplers include integrated StapleStore compartments on the base that hold extra sticks of staples and built-in removers. These are simple added benefits to make consumer's stapling experience one for the books.
Staples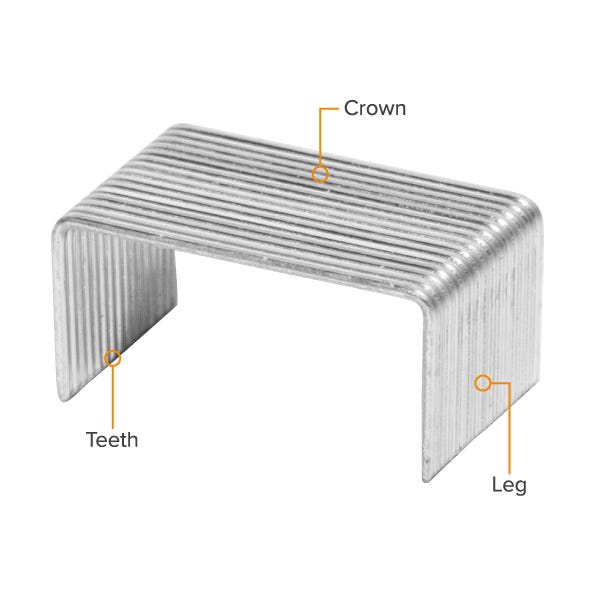 While a staple may look pretty straightforward at first glance, there is more than meets the eye. As mentioned, staples come in various sizes to properly fit different sized staplers. That means, the crown and/or the legs may vary in length. The longer the leg, the more the staple can push through. As you could guess, the teeth help pierce the objects you're stapling.
The standard sized staple is typically 1/4" long in leg length. However, other lengths include 3/8", 1/2", 5/8", 3/4". These versions are longer and thicker, catering to larger paper stacks and bulkier objects in heavy duty staplers. Most of our staples are made from high carbon steel wire that reduces jamming, which is great for those avid staplers out there. Additionally, staples come in full strips (210 staplers) or half strips (105 staples), depending on which type of stapler you own.
It doesn't stop there, either. Upon staple size, there are also five different varieties of Bostitch staples: standard, mini, PowerCrown™, EZ Squeeze™, and Premium Heavy Duty. So, what's the different between each type?
First, our standard staples are made to fit any of our standard staplers, while our Premium Heavy Duty staples are specially created with finely honed chisel points to deliver maximum penetration in heavy duty staplers. Additionally, the PowerCrown™ staples have a special peak in the crown that is flattened during stapling. It then forces the legs outward for further support in the stapler during operation. The EZ Squeeze™ take on the same design, but are sized to fit exclusively in the EZ Squeeze™ staplers.
When shopping for staples, it's best to first choose which type is compatible with your existing stapler, and then choose the leg length.
Staple Removers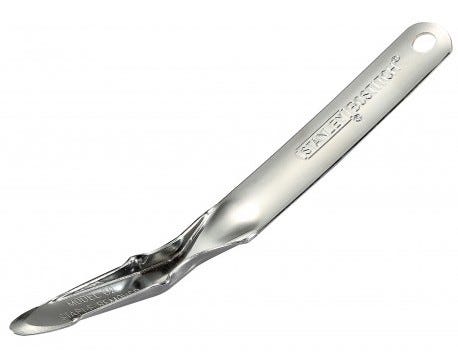 With a long handle for a strong grip, push-style removers make extracting staples effortless. Learn how to use a staple remover and do-away with unnecessary staples!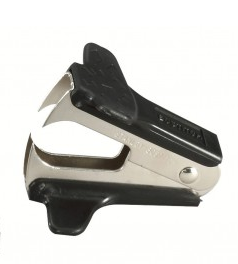 Claw-Style Staple Removers


This style of remover requires users to pinch and pull out a fastened staple with the four sharp teeth. While this alternative looks scary, it does the job - though, it may leave your paper with some tears.