Bostitch Office is happy to congratulate Ms. Brittany Ballou on being crowned one of two winners of our Bostitch Creativity in the Classroom Grant! She submitted an in-depth lesson plan that was full of creativity and excitement for students that won her a $250 grant for creative supplies for her classroom!
About Ms. Ballou
Ms. Brittany Ballou teaches grades 3-5 at Grange Hall Elementary School located in Moseley, Virginia. Specifically, she teaches STEAM, which is a variety of subjects that include science, technology, engineering, art and mathematics. Pretty impressive, right? Find her full lesson plan below!
The Winning Lesson Plan
How to Be an Inventor Design Brief
Brittany Ballou, Chesterfield County Public Schools
Background: Discuss what it means to be an inventor with your students. Watch Kid President's video, How to Be an Inventor. Have an open discussion on what it means to invent something new. Help students brainstorm this idea by showing them the "Everyday Inventions" powerpoint, which will help them understand that new inventions can improve a concept that we currently have.
Challenge: Part 1: Toys "R" Us has hired their newest toy design employee - YOU! They've been racking their brains for the hottest new toy of the year. Can you help them invent a new toy that kids your age would love? You must design a prototype that connects to a science topic that we've learned/reviewed. For example, magnets are very versatile. Can you apply your knowledge of magnets to your toy invention? Simple machines are all around us, can you use them in the construction of your project and identify them?
Part 2: Toys "R" Us also needs your help advertising the new toy. Using Flipgrid make a commercial that is 0:45 - 1:30 minutes. Your commercial must demonstrate how you interact with your toy, while also convincing the audience that they have to buy it. Use your STEAM notebook to organize your project plan.
Example Materials: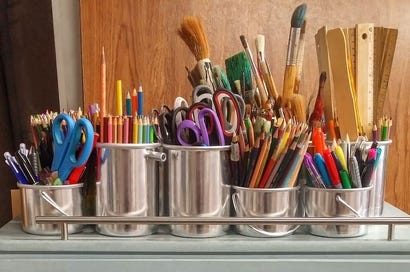 Tools & Adhesives:
Teacher Operated: hot glue, drill, X-Acto knife
Virginia Standards of Learning Connections:
Science - 3.1, 4.1, 5.1 (Scientific Investigation) 3rd, 4th, & 5th Grade SOLs will vary depending on topic chosen
STEAM - Supports the majority of standards for Exploring Design & Creativity, Applying the Design Process, Designing the Potential Products, & Forming a Production Company
Supporting Resources:
Overall, we were very impressed by this lesson plan. What child wouldn't love this project? It has to do with toys and crafting something they hopefully would be proud of and use after the project is complete. We love that Ms. Ballou's lesson plan truly does include all parts of STEAM, showing she truly knows how to partner fun with learning. We wish we could see the finished results; we can imagine that each finished product was full of passion and excitement.