We're happy to announce our second winner for the $250 Bostitch Creativity in the Classroom Grant goes to Ms. Amanda Ferguson! With her thoughtful and personalized lesson plan, Ms. Ferguson won the grant for classroom supplies for her students.
About Ms. Ferguson
Located at Arbor Ridge K-8 School in Orlando, Florida, Ms. Amanda Ferguson teaches math, science, social studies and English language arts to a class of second graders. She's a master of them all! See her complete lesson plan below!
The Winning Lesson Plan
Personal Statement: As a teacher, it's my responsibility to teach the standards for each subject and to make sure my students are successfully absorbing the curriculum and content every day. However, to me, it's important that I teach them to be good human beings as well. Whenever I can incorporate service learning into my lessons, I do. In a world where selfishness and greed are prevalent, it's a breath of fresh air when our young children think of others before themselves. In this lesson, there are academics - of course. But the underlying reason of the whole lesson is to make sure we're giving back to those in need. If we can accomplish all of that simultaneously, I feel as though I have done my job!
Lesson Title: Making a Difference, One Student at a Time
Grade Levels: Any (this was done with 2nd grade, but could be applied to any grade level)
Subject Areas: ELA, Math, Character Education
Standards: Depends on Grade Level
Duration: This lesson is more quickly taught if your students have an understanding of service learning, doing for others, and giving back to the community. Our school has a high number of service learning projects that go on throughout the school year, so it's our school culture that we look for what we can do for others in our community at all times. However, if your students have not done any service learning, that's okay. There are plenty of ways to teach the concept, and many good pieces of literature that can go along with your lessons. It'll just take longer. For us, we were able to jump right in. This project took us about a month, from start to finish.
Part 1: At School
Whole Group discussion about people and community members in need. Our class made a circle map of all the organizations in our area that run on the donations and support of people in the community. This is a really good way to get the students discussing different causes, and through the discussion you find what is important to them and their families (you can even assign a little homework before this discussion to have students research organizations in your area that need support). *Outcome of this discussion: narrow down the students' choices/ideas to one or two organizations that they would like to help. For the duration of this lesson plan, I will refer to the organization my students selected: The Ronald McDonald House.
Research the needs of the organization. For us, it was pretty simple. The Ronald McDonald House has a website where you can find the house closest to you and see their wish list. We did this as a whole class, and we also researched the cost of each of the items. For instance, laundry detergent was one of the items on our RMH's wish list, so I had kids go online and try to find the price. We made an "approximate" cost list of everything on the list they were asking for.
Brainstorming ideas to make money. This is where the kids' creativity exploded! I have never seen more amazing ideas come out of 2nd graders in my life! All I said to them was that for us to be able to purchase the items on the Ronald McDonald House's wish list, we would have to have money to purchase it. To have money, we'd have to either earn it or fundraise it. Another discussion ensued, and there were a lot of ideas thrown around as to how to get our money. This part can take as long or as short as you'd like it to. You can assign some brainstorming at home, or you can do it all in the classroom. The important part is that the kids come up with the idea themselves. Taking ownership in this project is the fastest way for the project to have meaning. My students decided to each do their own fundraising at home and for us to collect change at school.
Part 2: At Home The students were given 2 weeks to do what they wanted to do at home to earn their money. This part of the lesson is completely student/family run.
Outcome for my students: At home projects. I was so impressed with the creativity of the students. The home projects were phenomenal… we had students create full businesses to earn money (check out Happy Earth Soap Company on Facebook; this student started making and selling homemade soaps to raise money), we had families do garage sales, we had students who were neighbors team up and do lemonade stands and bakes sales. I have never seen anything like it. The planning and advertising these students did to raise the most money possible was awe inspiring. Not only did they have to have good ideas, but they had to have a schedule of events, they had to create posters to advertise their event, they had to put in the effort to get the event rolling. I was so impressed. The approximately 70 students in 2nd grade raised just over $1,000.00! School-wide fundraising: The students created Change for Change buckets and gave one to each classroom in the school. All students and teachers were encouraged to throw loose change and bills into the buckets. The students didn't have any expectations for this fundraising, but it raised us an extra $300 toward our cause!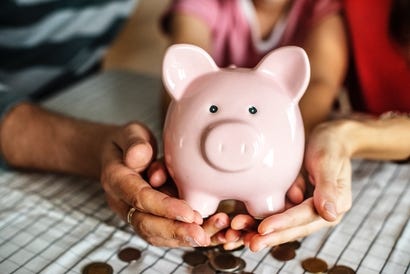 Part 3: The Field Trip
The most exciting and rewarding part of this project is the field trip to the local grocery store. We have a wonderful chain in Florida called Publix, and we were able to set up a trip with our students to go spend the money they raised. All of this is set up prior to the project beginning, and if you're lucky like us, the grocery store will take the students on a tour of the store and let them see behind the scenes. The students even got to ring up their own purchases. This was a really cool experience, and a bit of a "reward" for the students' hard work. It was pretty cool for the students to be able to spend their own money to be able to get items off the Ronald McDonald House wish list.
Pre-Field Trip: A day or so before the trip, we brought back out our "approximate cost list" of items on the RMH wishlist that we had made a few weeks earlier. Students made a game plan of how they wanted to spend their money, and compared it to their friends' lists so that we made sure that we were purchasing some of everything on the list. I knew that if I let students free in a grocery store with no game plan, it could take them forever to spend their money. *Just a little planning tip!*
Part 4: The Delivery
This part can be done in a few ways. It could be as simple as a drop by and drop off (this is what we did… otherwise it would have been another field trip, and we aren't allowed that many trips in one year). Or it could be a whole new field trip for the students to be able to see the place for which they were earning their money. I would have preferred if the students had been able to go, but unfortunately the time and resources weren't there. It also depends on the organization you choose. Ronald McDonald House has an actual location, but some organizations don't have a place that would accommodate a bunch of students.
Part 5: Reflection
This part warms your heart. This is where you can tell that the students really understood the "why" of the project. There are various ways to wrap up the project, and my favorite is a class book. All I did was create a worksheet for each student, and at the top it said, "The Making a Difference Project was important to me because…" and the students got to finish the thought in their own words. There was also a place for them to draw a picture to go along with their words. I bound the worksheets into a book for the classroom, and it was one of the favorite books for the students to read. There are many different ways to reflect about this project, but this is a favorite of mine.
Notes to teachers doing this project:
There were no financial requirements for this project. Students were not penalized if they were unable to bring in money. They still got to go on the field trip and they still got to help their peers shop. There were very few students who brought in nothing, there were some parents who just handed over $10, there were some kids who simply brought in their allowance, and then the majority of the students really got into the project and were creative with the ways they raised money. Everyone comes from different backgrounds, and I do not penalize for inability to bring in money.

The more you encourage, the more money will be raised. For instance, I sent emails to parents highlighting ideas that students were doing, gave kudos, and talked about it daily. The more effort and energy you put into it as a teacher to get the students (and parents) excited about the project, the better your outcome will be.

This project can be done as quickly or as slowly as you'd like. You can develop math lessons from it, and many reflection lessons, including thank you letters to the grocery store. In fact, though it would take away a HUGE part of the learning for the kids, the field trip can even be cut out if need be. The main point is that the students are learning to do for others.

If you do the field trip, it's important to have as many chaperones as possible. I had about 1 for every 2-3 students. It's also super important for the kids to plan what they are buying before they walk through the store doors. It will make your life easier - I promise!

If the organization you select doesn't have an online wish list, call them and ask. They will be delighted you are inquiring, and will likely have a long list to give you. Don't forget about hospitals. Many hospitals have a "pantry" of sorts with toiletries and supplies for patient families who might have unexpectedly had to come to the hospital on a moments' notice.

You will be happily surprised at what this project inspires even after it's over. All year long, and beyond, if I'm being honest, students come to me and tell me how they are giving back to the community. This project inspires them to be creative in their giving, and it is a very good life lesson in that it feels good to help others.

Creativity abounds in this lesson plan. Have fun and make it your own!
We absolutely adored this lesson plan because it teaches kids how much impact they could have on their community and that they truly can help. It's creative and thought-provoking for the students, but it's also much bigger than a school project. We hope more teachers adopt this into their classroom!