Halloween is a time that brings neighborhoods together as we watch our kids Trick-or-Treat from house to house in groups of ghosts and ghouls. Take advantage of this opportunity to host a neighborhood get together full of Halloween hand-crafted games and events before the night of candy hunting commences. Start off your day with our 14 Free Halloween Printables that include coloring pages, word searches, mazes and more! Then follow our Halloween DIY activity guide that'll enchant the whole neighborhood.
Trick-or-Treat Balloon Pop Game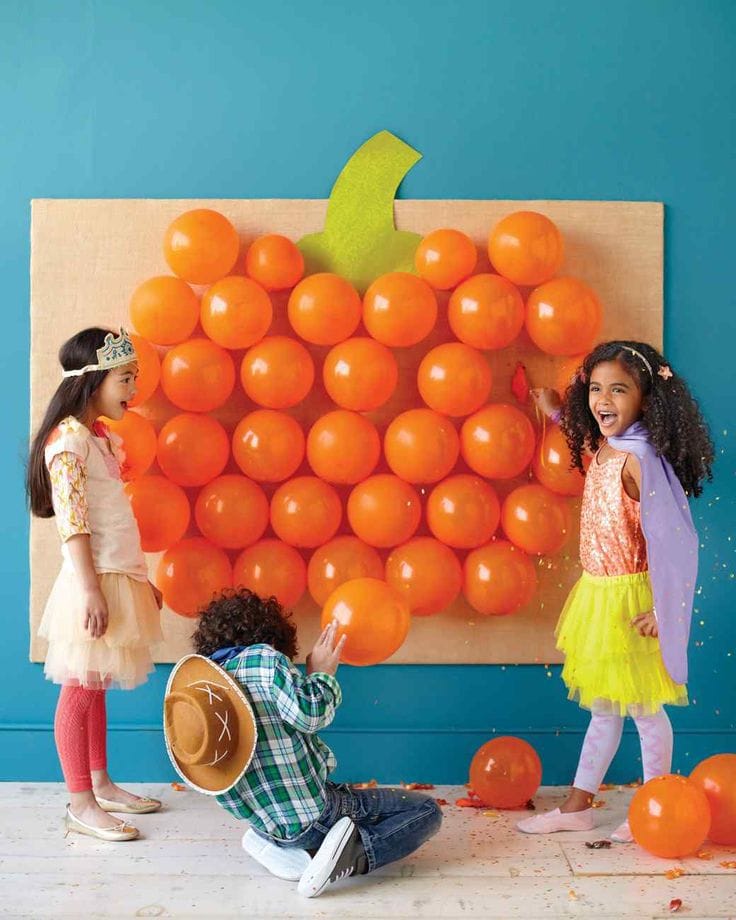 Kick off your Halloween party games with a Trick-or-Treat Balloon Pop pumpkin game! Adapted from Scattered Thoughts of a Crafty Mom, read on for directions to help you set it up and a how to play guide for your kids!
Materials:
Orange balloons
Paper
Sharpie
darts
Large Cradboard back drop
How to play: Use the paper to write treat names (Snickers, cupcakes, Reese's Peanut Butter Cups, etc.) and place each paper into a balloon before blowing them up. Once the balloons have been blown up, staple the tale of the balloon to a sturdy cardboard background to create the shape of a pumpkin. Each participant gets two chances to throw a dart and hit the balloons. If the balloon is hit and pops, the contestant is awarded with the treat that was written on the paper inside.
Monster Mash Tin Can Bowling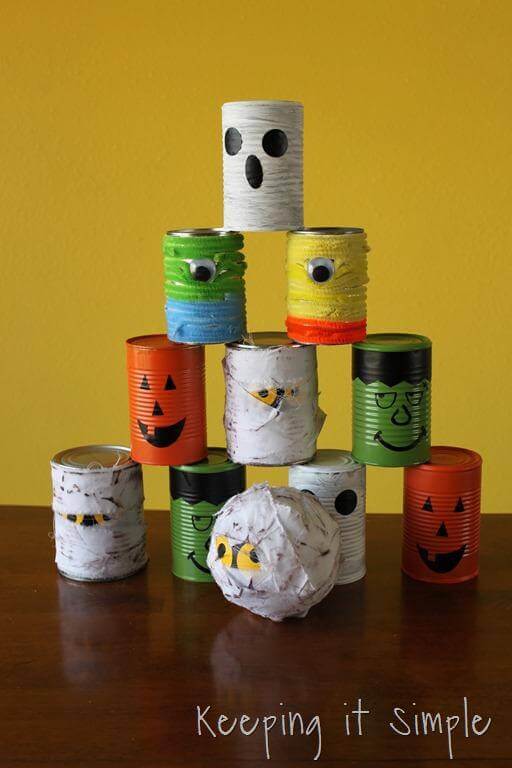 Next, try out this homemade party game that features a variety of spooky monsters and ghouls! Adapted from Spaceships and Laser beams, read on for DIY character instructions and a how to play guide!
Materials:
Tin cans
Paint
Construction paper
Markers
Plastic ball
How to play: Use the paint to dress up the tin cans as your favorite Halloween monsters and friends. Use construction paper, markers, and more to add character to each of the cans. Set the cans up in a pyramid to mimic a bowling pin setup. The participants will have to "bowl" and try to knock all the cans over!
Ghost Marshmallow Toss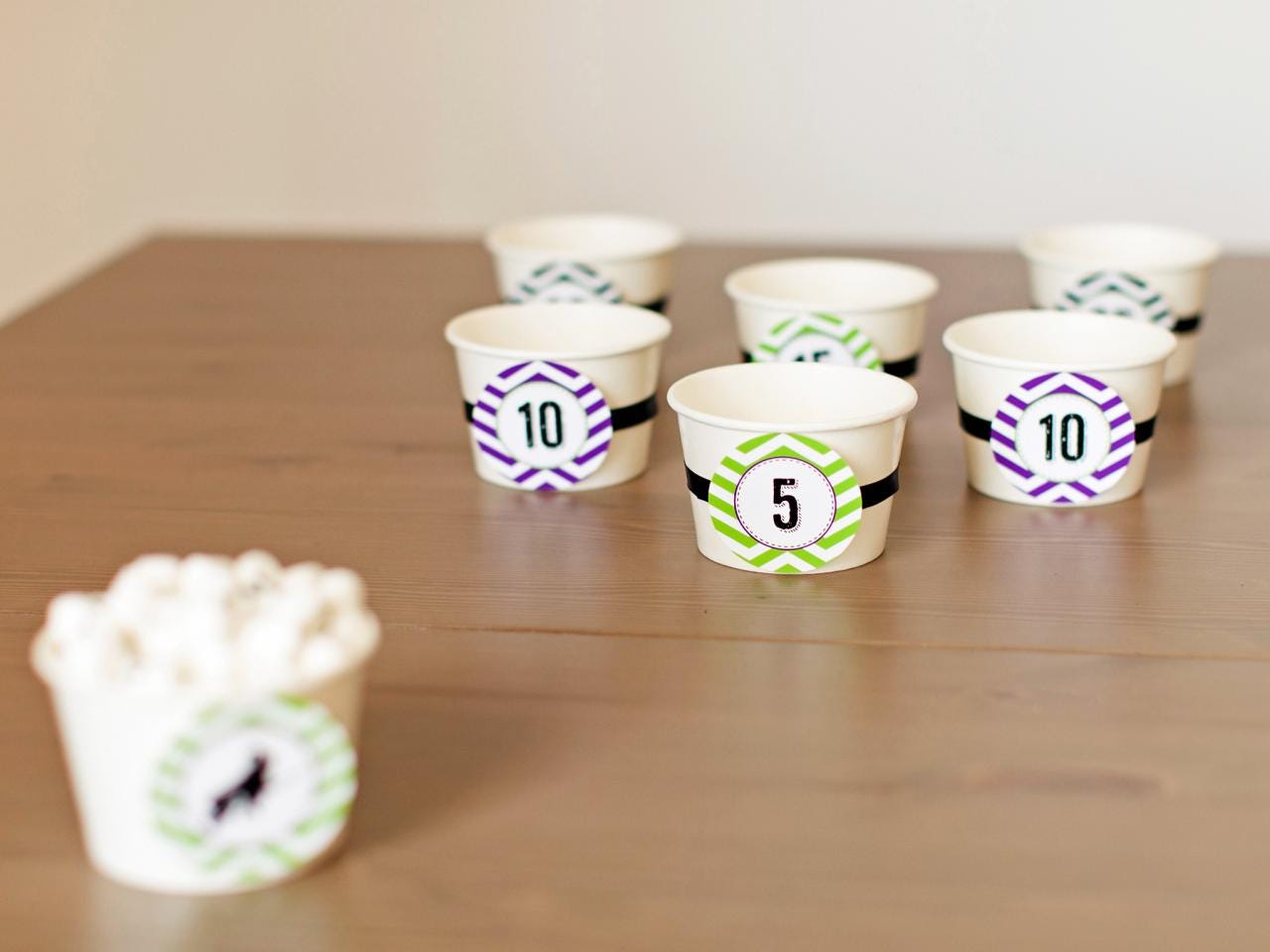 You can also set up this Halloween game for kids, from HGTV, for some friendly competition, just follow the guide below!
Materials:
Small paper cups
Marker
Mini marshmallows
Optional: food coloring or food-safe marker to turn marshmallows into ghosts
How to Play: Set the cups up to form a small triangle at one end of a table and label each cup with a number. Place one cup at the other end of the table filled with mini marshmallows. Contestants will stand on one side of the table and throw the mini marshmallows into the cups with the numbers on them. Keep a scoreboard to see who can land the most marshmallows in the cups by the end of the party and reward them with a prize!
Donuts on a String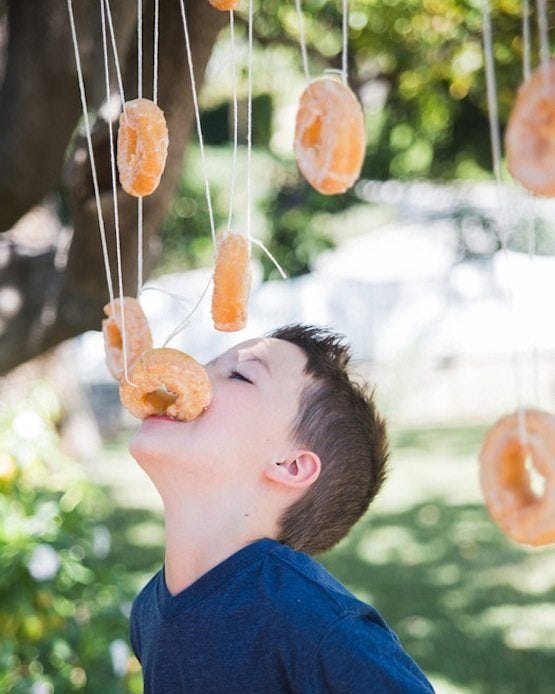 Instead of party tricks, how about some party treats? With this party game from Good House Keeping, your kids will be one game away from getting ready to go scouting for candy!
Materials:
Yarn or ribbon
Stanley 8" Non-Stick Titanium Scissors
Donuts
How to Play: Use the scissors to cut the yarn or ribbon into equal lengths that can be hung from a tree branch and will reach the height of a child. Without using their hands, kids will have to bob for the donuts hanging from the tree and hold on to the one they want. This effortless and easy game will be all the rave for a pre-sugar rush the kids will need before running from house to house looking for more treats!
Witch Hat Ring Toss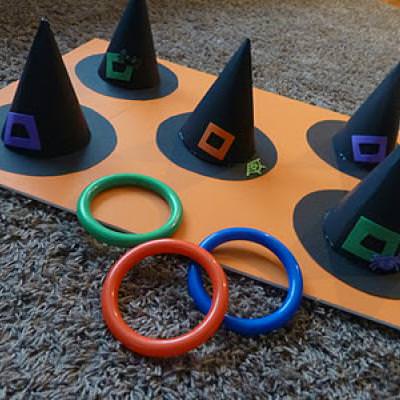 If you're looking for more Halloween party kids, don't forget to include this witch hat ring toss from Tip Junkie! Enchant your kids Halloween party with this magical game and only a few easy steps to follow!
Materials:
Cone and disk-shaped Styrofoam
black paint
glue
green and purple ribbon
foil
How to Play: Start by painting the cone and disk-shaped Styrofoam pieces in black and set them aside to dry. Once they are dried, use the glue to place the cone on top of the disk to make the appearance of a witch hat, adding a purple or green decorative ribbon to the bottom of the cylinder. Use foil to make rings for throwing. Contestants will each be given 4 rings and who ever can get the most around the hats will win a prize! The witch hat ring toss game is perfect for playing inside or outside!
Pin the Spider on the Web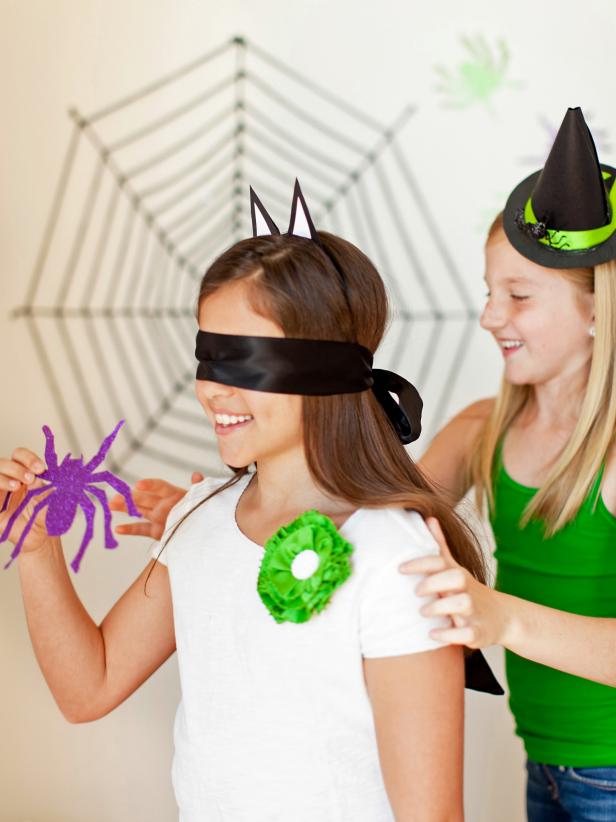 Last but not least, end your party with another homemade game from HGTV, that will be all the rave before ending your night with trick-or-treat around the neighborhood!
Materials:
Black yarn
Plastic pre-bought spiders or cut-out paper spiders
Scissors
fabric for blindfold
How to Play: Begin with the spider web by cutting four strands of yarn to be 3 ft long. Attach the yarn to the wall one at a time enclosing each piece by crisscrossing them to form a spider web. You can attach the yarn to the wall through glue dots that won't leave a mark on your paint! Once the web is assembled, contestants will be blindfolded and have to try to place their spiders on the web! Turn it into a competition by offering candy to any player that successfully sticks the spider on the web.
Let us know how these four activities helped to kick off your haunted Halloween night by tagging us on twitter (@Bostitchoffice)!