It's the fourth time you've glanced at the clock in a half hour. The 3 P.M. slump is hitting you hard as you feel that you need another cup of beloved coffee in your blood to get you motivated again. You promise yourself that after the first sip, you'll get right back to work, more focused than ever. But even that walk to the break room seems like too much effort at the moment.
Rather than another caffeine spike, all you may need is to get your blood flowing. Studies have shown that exercise increases employee productivity and it's not that hard to believe. A study by Briston University tested this, assessing 200 employees on a day with physical activity and a day without. According to Productivityist.com, the results revealed that on a day with exercise, scores were "21% higher for concentration on work, 22% higher for finishing their work on time, 25% higher for working without unscheduled breaks, and an incredible 41% for feeling motivated to work."
Whether you're in your chair, beside a desk or in the stairwell, we've got some entertaining exercises that are bound to break a sweat and keep you energized. At the very least, they will put a smile on your face - you can even incorporate a stapler or two as weights!
Exercise on Your Way to Work
You're probably thinking "Exercise on my way to work? They must think I have all the time in the world!" Though, don't sweat it - there are subtle changes you can make during your morning commute to up your body movement.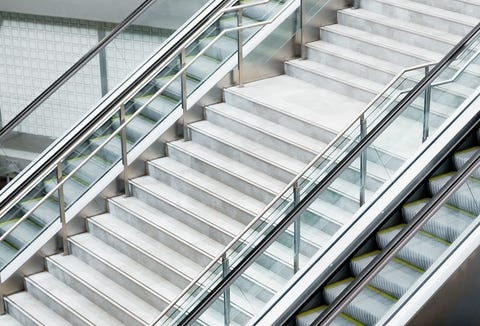 Bike or Walk to Work
If you live a decent distance away from your company, then swapping out the car for a bike or simply walking to work isn't that crazy of a concept. Though, if highways are a part of your morning routine, then stick to your personal vehicle for the best means of transportation.
Park Away from the Door
If you prefer on taking your car to work, think about parking further away from the entrance to get a few extra steps in for the day. Since you're walking to your desk where you'll most likely be sitting all day, this is an easy way to get some movement in before zoning in on your daily tasks.
Climb the Stairs
Ahead of schedule? Then you're not in a hurry! Skip the elevator and commit to taking the stairs to get your heart rate up. While it may not be right now, you will thank yourself at some point in the future.
Exercise From Your Chair
So, moving in the morning maybe isn't your thing. That's okay! Luckily, there are endless stretches and mini exercises you can complete right from your desk chair, while you're sitting down.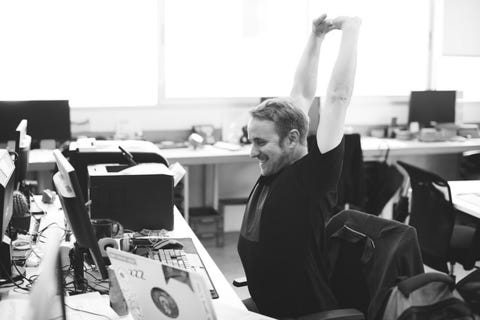 Use an Exercise Ball
Whether you're simply working your abdominal with a few reps of classic sit-ups, or replacing your standard office chair, an exercise ballhelps bring balance to your busy business life, literally. Find your center and do simple stretches during your lunch break to find your focus again. Check out this comprehensive list of stability ball exercises!
Complete Chair Reps
Take advantage of all your padded office chair has to offer! Do 10 reps of leg raises to get your tone on, swivel your chair while holding onto your desk, or simply fist pump into the air to the beat of your favorite playlist. These three moves alone work out your thighs, abs, and biceps. Talk about a triple threat!
Upper Body Stretches
If you're truly looking to refresh your focus while not actually moving your body out of your chair, you can complete some arm, back and neck stretches right from your seat. Do some simple neck rolling, cross-body shoulder stretching, and chest stretches to lengthen and unhinge your upper body muscles. You can't go wrong with any stretch that feels good to you!
Exercise at Your Desk
Getting a mini workout in without leaving your cubicle or desk area? That may be more your speed, which is stellar because there are still so many options. Check them out - just don't forget your water bottle!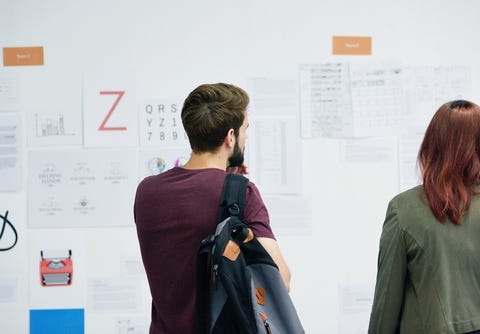 Stand with Your Desk
Standing isn't an exercise... or is it? Standing reduces the risk of weight gain, back pain, metabolic diseases, heart disease, and boosts productivity, mood and energy levels, reports Develop Good Habits. So, why not stand more? Better yet, adopt a standing desk into your office to promote this vertical position.
Desk Squats & Push-Ups
Two reps of 10 squats and push-ups are easy ways to build your leg and core strength. Want to complete these during your lunch or mid-day break, but don't want to do it where everyone can see? These are easy forms to do in the bathroom, break room or stairwell (which kind of defeats the luxury of doing them at your desk. But hey, you do you!)
Utilitize a Desk Bike
If you're really committed to balancing your health/wellness and a busy career, you might want to think about investing in a desk bike and pedal unit. While it may score you some strange looks at first, it's definitely an efficient way to stay active when having to stay on task.
Exercise with Office Supplies
As we mentioned earlier, if you're trying to stay on budget with as little distractions during your workday as possible, substituting actual weights and workout equipment with everyday office supplies is a smart idea!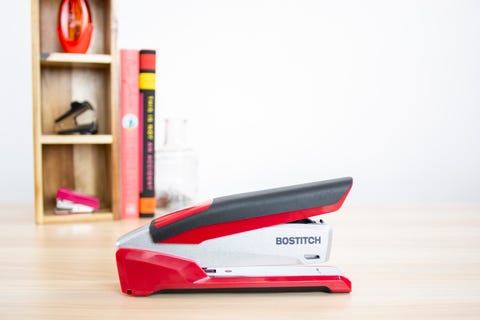 Stapler Tricep Curls
Who knew that a stapler could double as a hand weight? Tricep curls are a gym workout staple, so there's nothing wrong with bringing that into your 9 to 5! Depending on the size of the stapler (is it heavy duty or a compact stapler?), you may want to adjust the number of reps you do.
Lift Paper & Water Jugs
Doing some good deeds around the office, such as replacing the water jugs in the water cooler, can reward you with some toned muscles. Is the common room running low on paper? Replace those stacks with a little extra bending and lifting to really see the benefits that office supplies offer!
Take Out the Trash
If you see an overflowing trash can, offer to take it outside to the dumpster to give your arms and legs a mid-day power walk. Your co-workers and muscles will be very appreciative!
While not everyone may have the time or energy to hit the gym after office hours, these at-work exercises are great ways to get your blood flowing and help build muscle. Everyone has 10 minutes during the day to stay active. After all, your overall health and fitness regime go hand-in-hand.
Pin it!