Now that the holidays are over, it's time to start thinking about taking down all those decorations that are sprinkled in and around your house. The hardest part of taking all those lights and ornaments down is finding a place to store them. Well, look no further because we are here to help! We've compiled a list of 4 holiday decoration storage ideas to keep your space organized and help make it easier for you to find for next year!
Use Cardboard Boxes with Dividers:
When it comes time to take down decorations, we usually start with the tree, and the first thing we have to store from the tree are the ornaments. This can be tedious as ornaments are very fragile, so you don't want to keep them bunched up together. We have the perfect DIY storage tip for these breakable pieces. Start by taking a few flat pieces of carboard and cutting them in to horizontal and vertical strips. Then cut 1-inch slips (that align with each other) in each strip. Place them into a cardboard box to create dividers! Each square should be about 4 by 4 inches, so each ornament can have their own square to live. To save the number of boxes you use, layer your box by separating each section with a thin sheet of cardboard to repeat the same process within the same box. This saves space and is perfect for storing in your garage or apartment!
How to Store your Artificial Tree:
Start by taking down all the ornaments and lights from the tree and storing them carefully in the cardboard boxes with dividers that we mentioned earlier. Once the ornaments are off the tree and stored, it's time to unfluff the branches. To do this, start at the top of the tree, with the smallest branches, and start compressing down. Carefully compact each section of the tree towards the trunk as you work your way downward. Once the tree branches are all compacted towards the trunk, wrap the tree tight with plastic wrap so that it doesn't come undone. This will also help keep the branches secure and prevent any damage to the foliage. Finally, store the tree back in the box it came in, or a durable bag if you've already got rid of the box!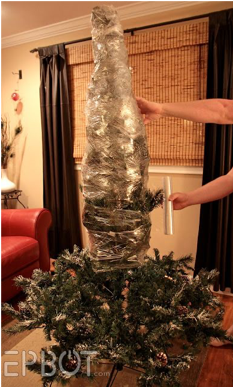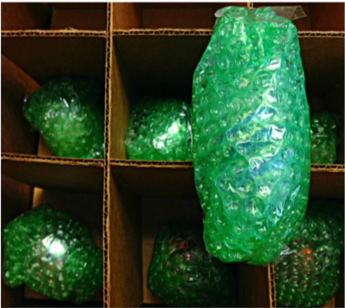 Before throwing your garland and holiday string lights into boxes. Think about laying them flat in bubble wrap and carefully rolling them up before storing them. This will keep them from getting tangled while they are placed in storage boxes and will be easier for you to set up next year! If you have extra cardboard, you can even wrap your lights around that first, so that they stay untangled. Also, think about placing bubble wrap around ornaments that are special to you before placing them in their dividers, as we know these objects are most prone to breaking. You can even seal the ends of the bubble wrap together with masking tape to make sure they don't slip around inside!
Repurpose Household Items:
If you have extra empty water bottles laying around the house, this is a great way to repurpose the plastic, rather than just throwing them away. If you used any sting beads to help give an extra sparkle to your tree, carefully feed the string of beads through the water bottle to store them. Each water bottle container will hold two strands of garland! Another household item you can repurpose for storing Christmas decorations are egg cartons. If you don't have time to make your own dividers for boxes, carefully store your ornaments in egg cartons, as each carton can hold up to 12 ornaments!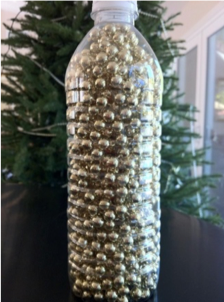 We hope these tips help you store your decorations as you wrap up the end of the year! Tag us on twitter (@Bostitchoffice) with any tips you want to share!