Heading to the beach for the day with your family? Going for a summer stroll in the park? We have the perfect DIY project for you to make and then take with you!
Check out this easy-to-do, step-by-step guide to making your very own kite! This activity is a fun summer project to do with your kids and take with you on days you want leave the house and enjoy the summer sun!
Materials Needed:
Colored Paper, Fabric, or Plastic
Colored Pencils or Markers
String
Glue
Ruler
20-inch stick
24-inch stick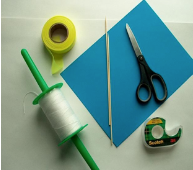 Step 1: Start by making the base of the kite:
Make a lower-case t-shape by laying the 20-inch stick over the 24-inch stick to frame your kite
Attach sticks with string and glue, wrap twine around 2 pieces in the middle 1-2 times. Tie string with a small knot and trim off excess with Kids Guppy Scissors.
Make sure the sticks form a right angle to each other when they are attached making a traditional diamond-shaped base. This step will determine how sturdy the kite will be for flying.
Make horizontal notches at the end of each stick using the scissors to make it easy to attach the sail.
Step 2: Once the base of the kite is finished, move on to adding the sail: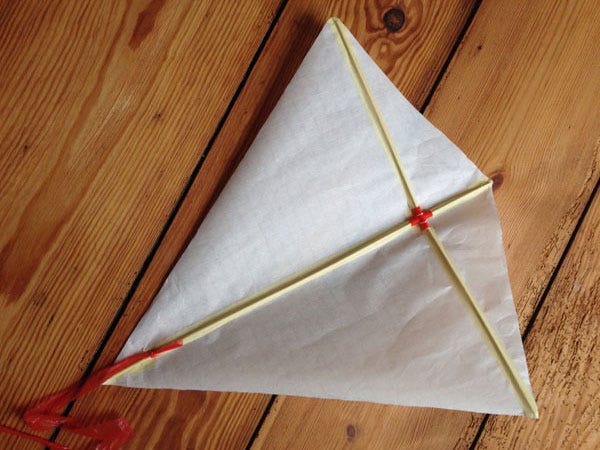 Use 40 inches of a plastic bag, construction paper, or fabric of your choice!
Trace a diamond shape around the frame using a marker and a ruler to measure how long the sail should be.
Cut the diamond to be wider than the base, leaving space to wrap the sail around the frame easily. Don't attach the sail to tight as the kite flies better when it is able to catch some wind in the excess room.
Step 3: How to assemble the kite: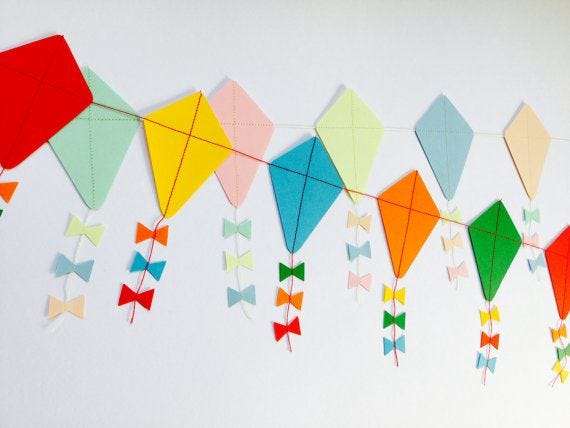 Fold the edge of the sail over the frame and glue or staple the diamond together so it's tightly pressed to the sail
Attach flying line by using 6 feet of thick string or cloth for the tail
Decorate with markers or light fabric pieces to make your own unique design!
Congratulations! You have officially completed your own DIY kite! Send us pictures from the park, the beach, or any other outside adventure where you flew your kite this weekend by tagging us on Facebook and Twitter! We can't wait to see what you create!
Pin it!