Everyone knows a teacher, whether it's one from your past or present day, or your child's current educator. Though, since you may not know them on a deep personal level, displaying your appreciation for them can be a challenge. To help you treat a teacher, we've compiled our top seven classroom supplies along with three other essential gift ideas that are perfect for teachers! From antimicrobial products to hand sanitizer and tote bags, make a teacher's day and provide them with something that can benefit both their classroom and their profession!
Scissors are an essential item for students in any classroom with arts and crafts. With this set of 24 Stanley 5" Kids Scissors, kids get to pick their favorite of four colors and are able to safely store them in the compact scissor caddy. Plus, the caddy can be used for so much more than just scissors—it can store paint brushes, colored pencils, craft supplies and more. We'd like to think that there's no better gift to a teacher than the gift of organization!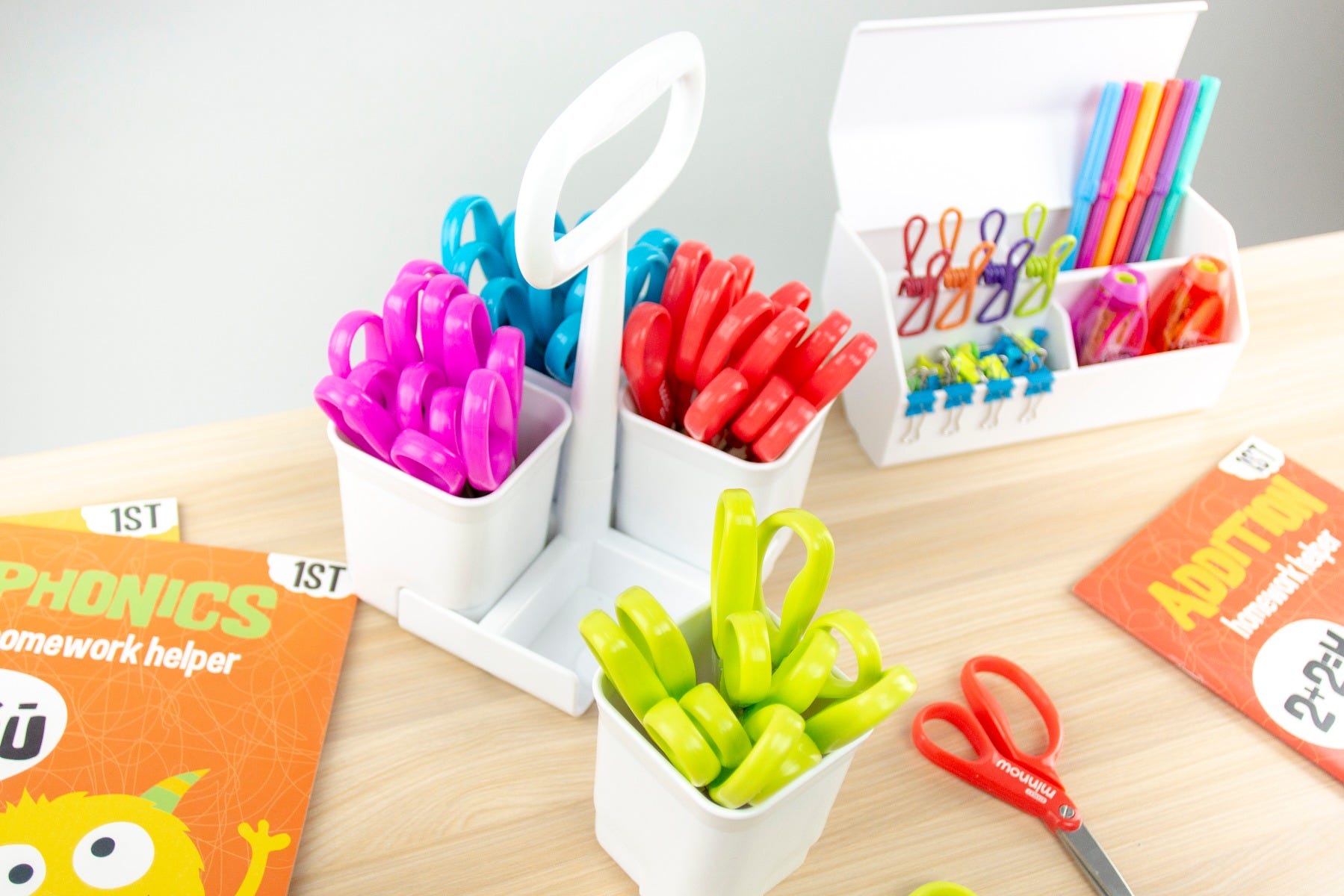 ---
Speaking of classroom organization, gift your teacher with one of our Desktop Organizer & Cable Management Kit! These desk organizers are perfect for any teacher's personal desk organization, as it comes equipped with a phone stand, area for sticky notes, and a place to organize those pens and pencils! The cable management rail even allows for their desk to be hazard-free of loose wires. Unsightly cable wires, messy papers and junk drawers be gone with these desktop organizers!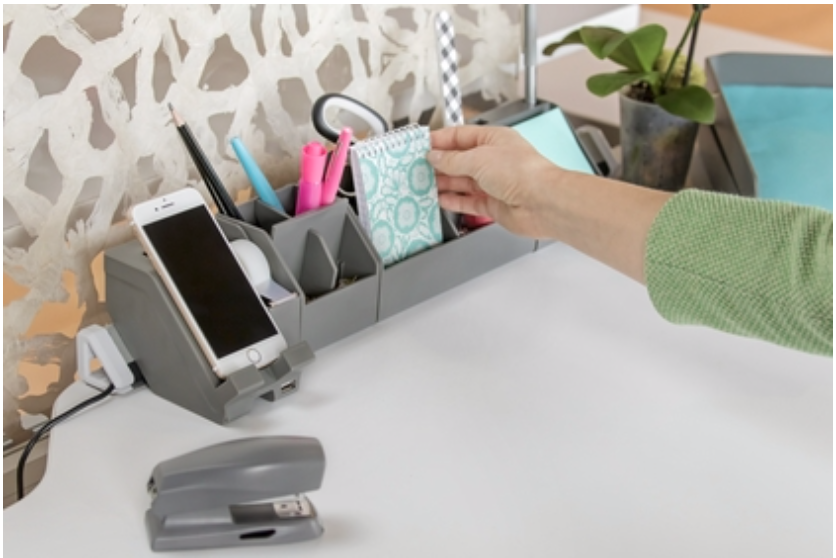 ---
3. World's Greatest Teacher Mug
We all know how much our teachers do for our students throughout a long day of educating and even longer day of making assignments and grading tests and papers. Without a cup of coffee in the morning, none of that might be possible. Gift your child's teacher with a World's Greatest Teacher mug, to show them how much you appreciate their hard work and dedication to their students. Not only will it hold up to 18 oz but it is completely microwavable and dishwasher safe!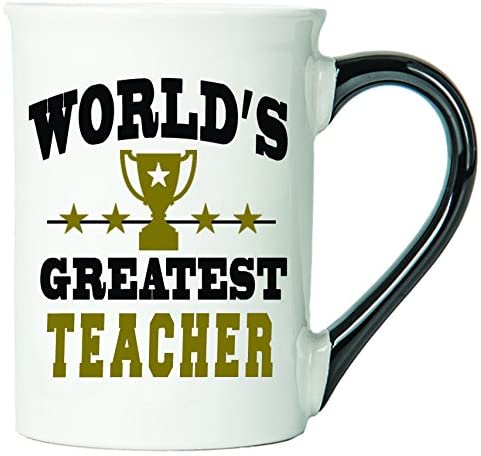 ---
Also important for crafting and classroom projects are staplers. However, regular sized staplers may not always be suitable for small hands in preschool or elementary school. These mini staplers are compact, lightweight and fit perfectly in the palm of your child's hand for easy squeezing. Providing a teacher with our Bostitch Nano Mini Staplers in fun, assorted bright colors means keeping tiny fingers safe and crafting fun and worry-free.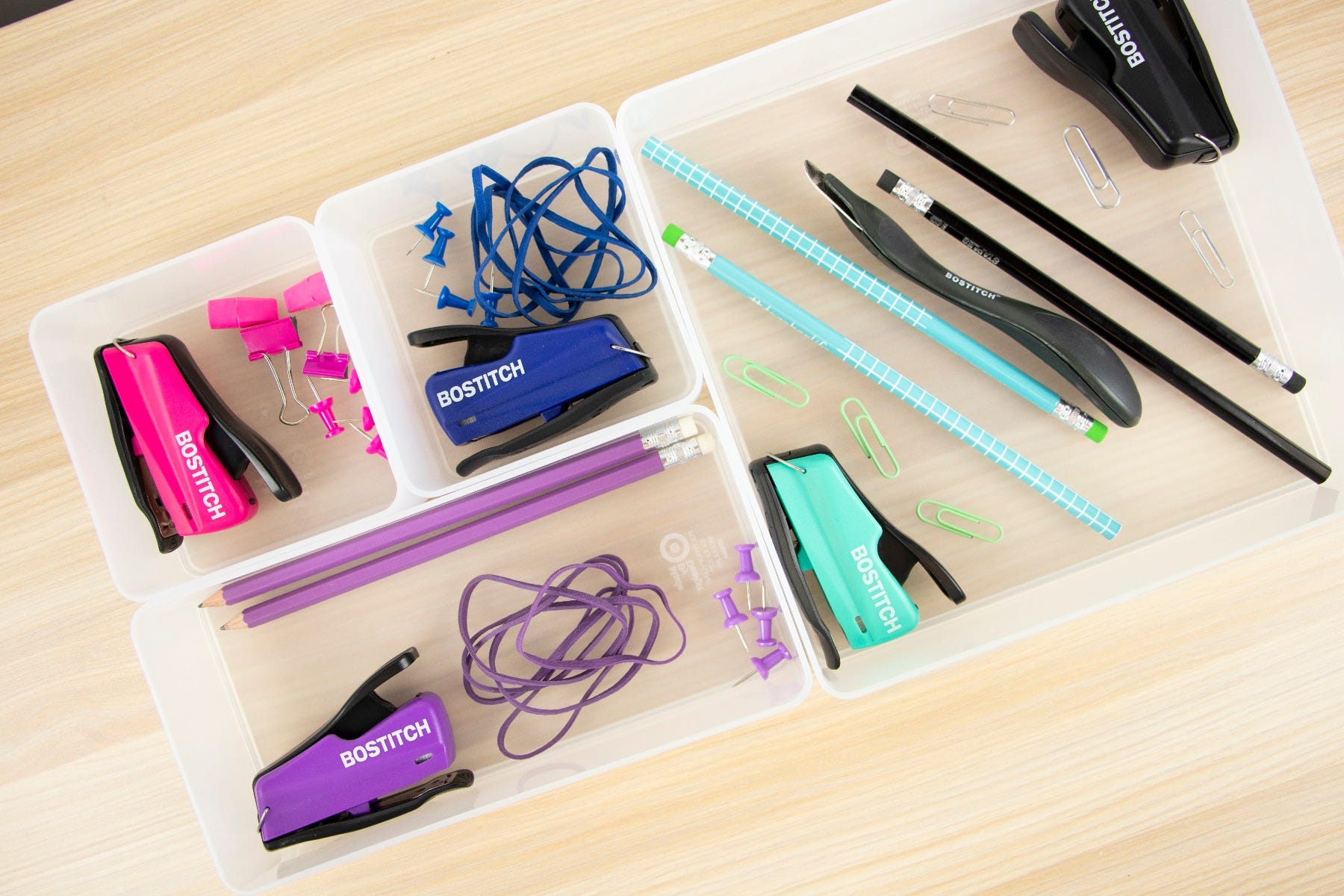 ---
5. Antimicrobial Electric Sharpener with a Replaceable Cutter
Any teacher will surely appreciate the luxury of a quiet electric pencil sharpener. With our QuietSharp™ Glow Antimicrobial Classroom Electric Pencil Sharpener, the motor shuts off and a light comes on when sharpening is complete, making it easy and fun to use for children. Additionally, it comes with the ability to replace the cutter when dull, making it budget-friendly and the unit long-lasting. Specifically designed for a classroom of eager students, it's also colored pencil capable and made for continuous use. Not only is this amazing electric sharpener distraction-free, but it's also antimicrobial protected to help keep both kids and teachers safe from the spread of germs!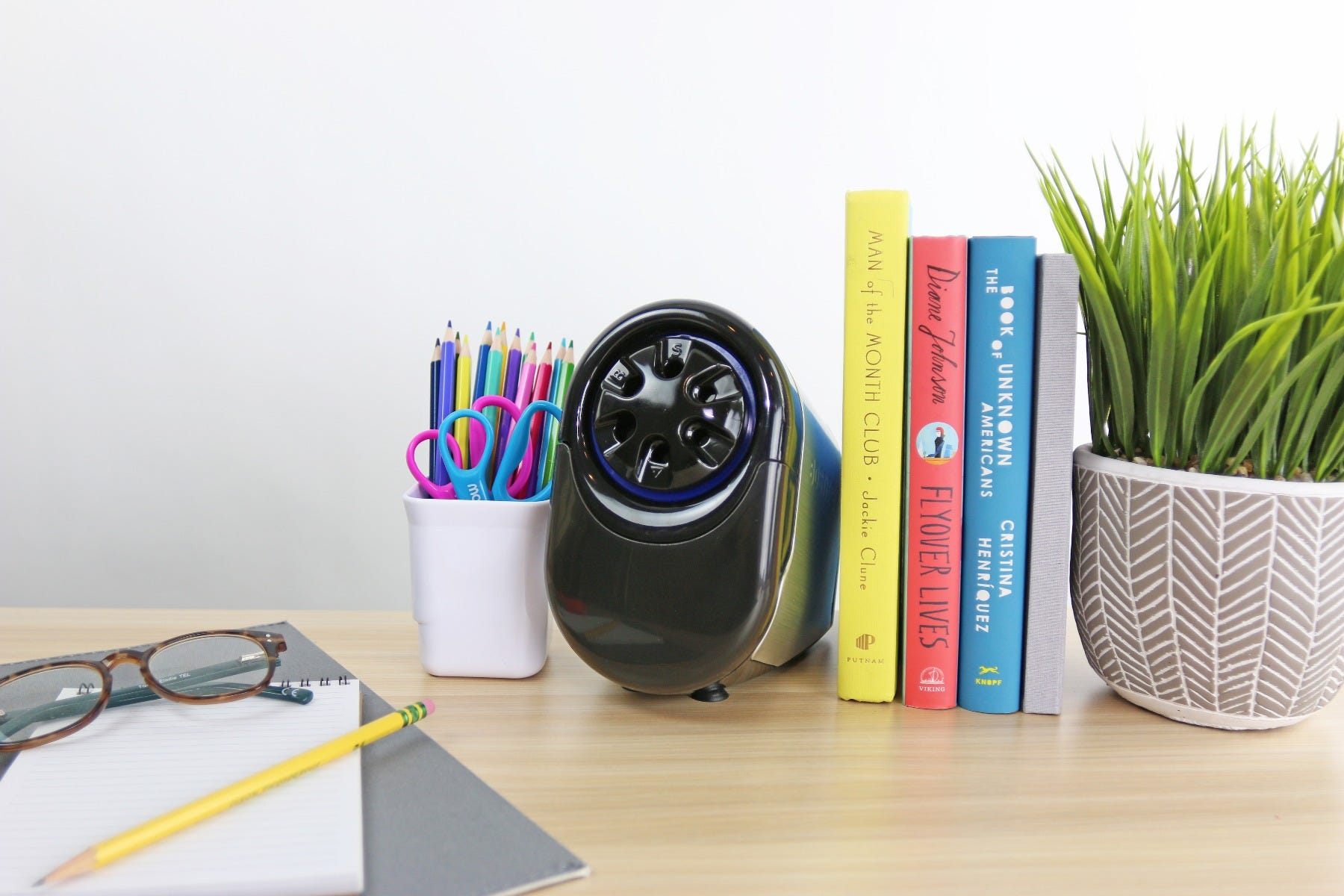 ---
Teaching kids how to stay neat and organized starts with their binders. To help students in this effort, it makes sense for instructors to provide pre-punched handouts. Though, that may require a lot of work on their end. Gift them with our best Electric 3-Hole Punch, which features a touch-free hole punching experience that the entire class can enjoy without spreading germs! It's durable metal construction for longevity can easily punch through 12 sheets – the perfect amount for a class on any school day!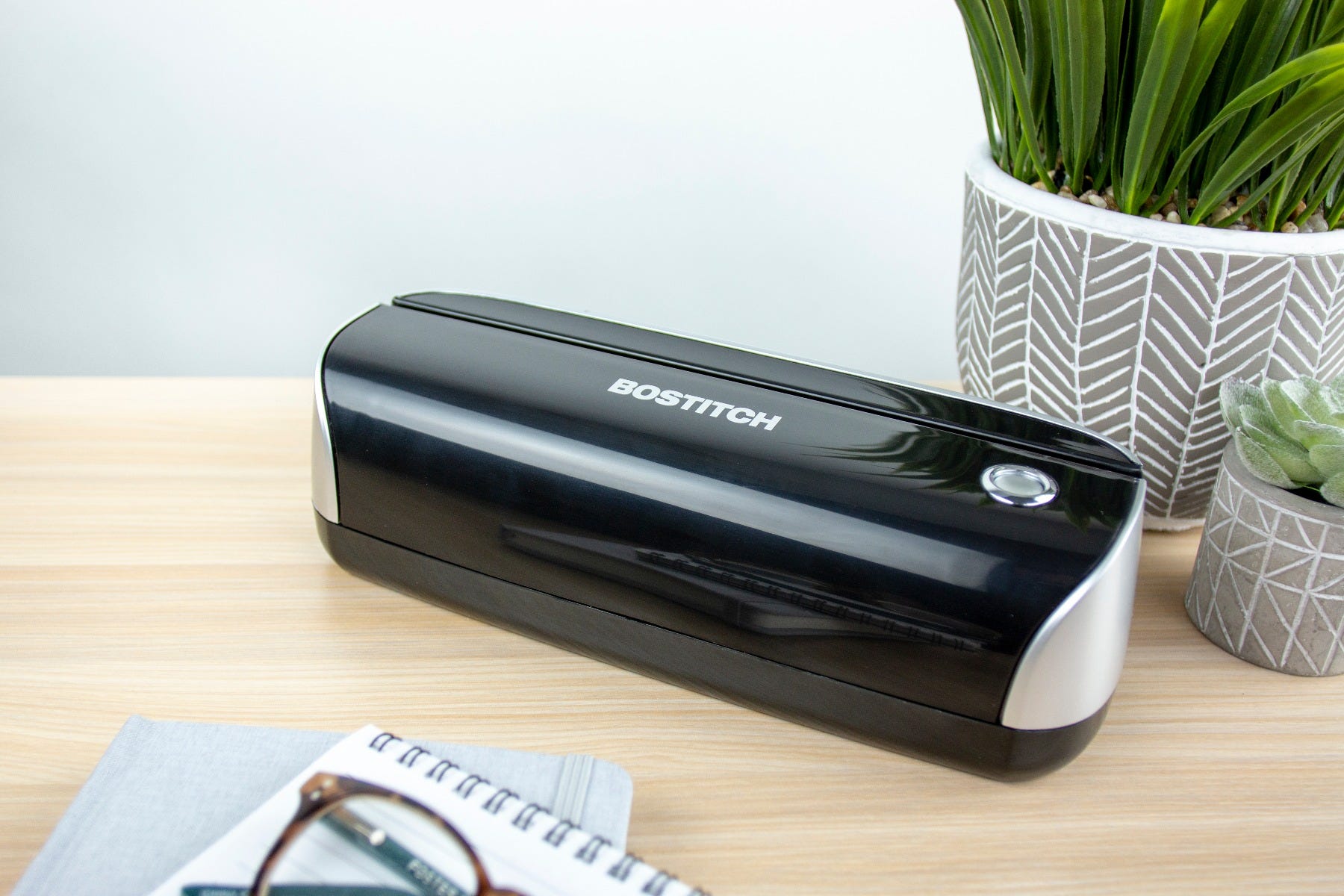 ---
Along with the antimicrobial and non-touch electric products, give your teachers some of the most sought-after back to school year presents like hand sanitizer and Clorox wipes that the whole class can use! Helping to stop the spread of germs in your child's classroom with some hand sanitizer and Clorox wipes can help your child's teacher take the preventative measures needed to keep their classroom healthy and safe. It may seem like a small gesture at first, but these gifts will keep on giving throughout the rest of the school year.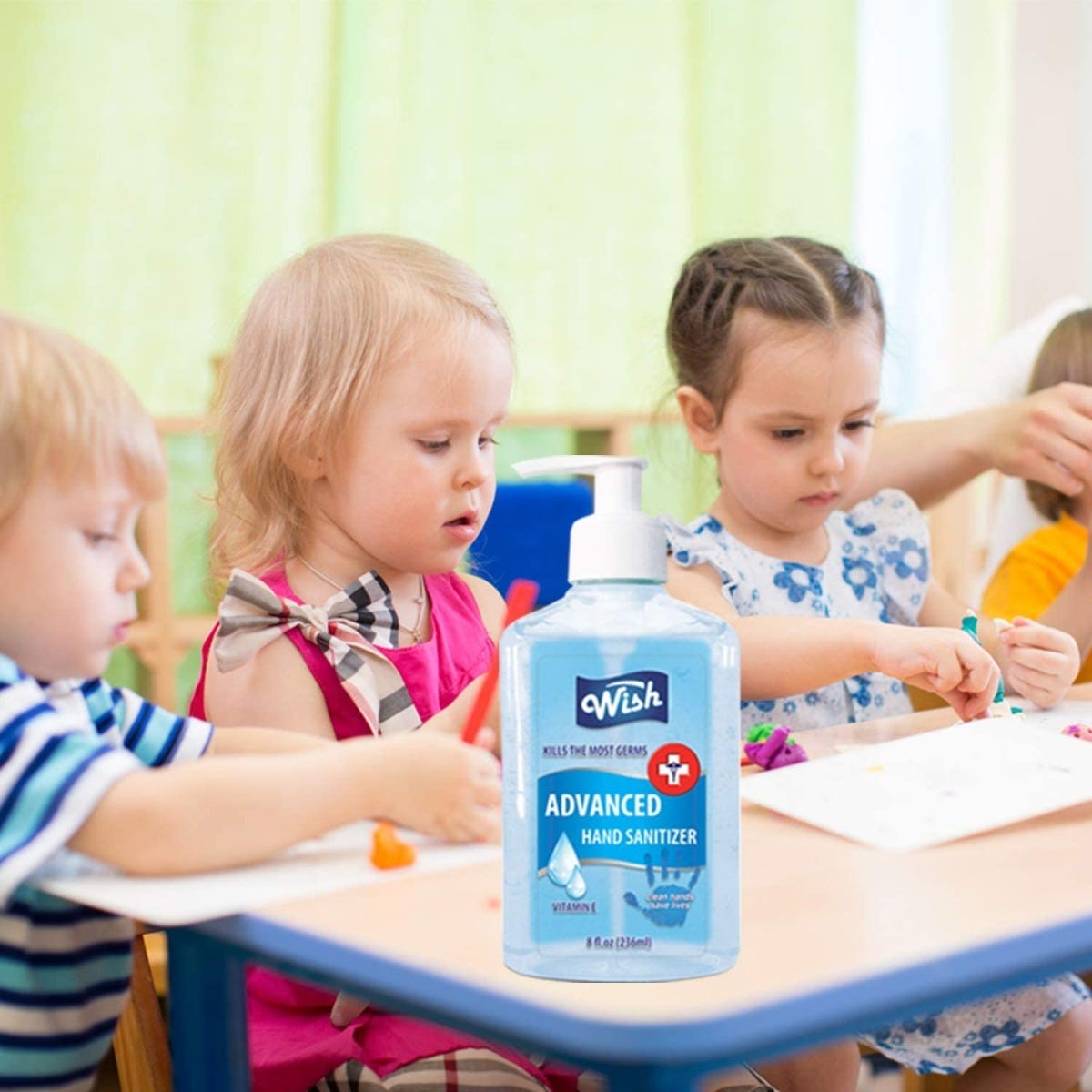 ---
8. Gold Classroom Supplies
We're sure by now you're used to your kids receiving gold stars as a reward for their hard work and participation in class. Why not show some of that appreciation back to your teachers with the Bostitch Office gold classroom supplies! Our Gold 3-Hole Punch has a beautiful gold shine, but it also ensures maximum durability with its metal construction for ultimate longevity, while punching up to 12 sheets of paper. Featuring our infamous No-Jam™️ technology, teachers can easily staple up to 20 sheets with the glitz and glamour of our unique Metallic Gold Stapler. With a base that features a Qi wireless charging pad and two built-in USB ports, our Gold Desk Lamp is a fast and convenient power station for a phone, tablet and any other devices that need a bit of charging.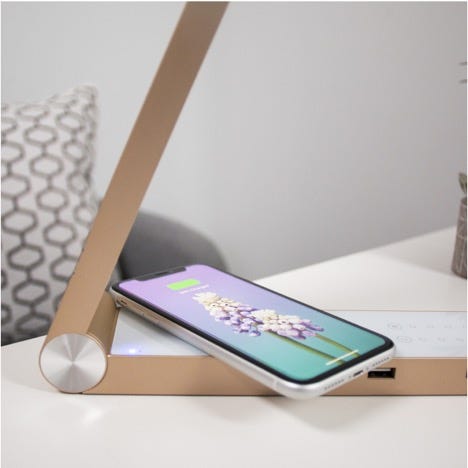 ---
Show your teacher some appreciation with a luxury teacher gift, such as our Thermal Laminator. Not only does the Flash Heat Technology allow it to laminate in 120 seconds, but it also has a digital control panel with audible alerts! Get your laminator started by laminating free classroom worksheets, classroom rewards, and school printables and activities from the Bostitch Office Free Goodies blog section. You can even find and laminate bulletin board supplies!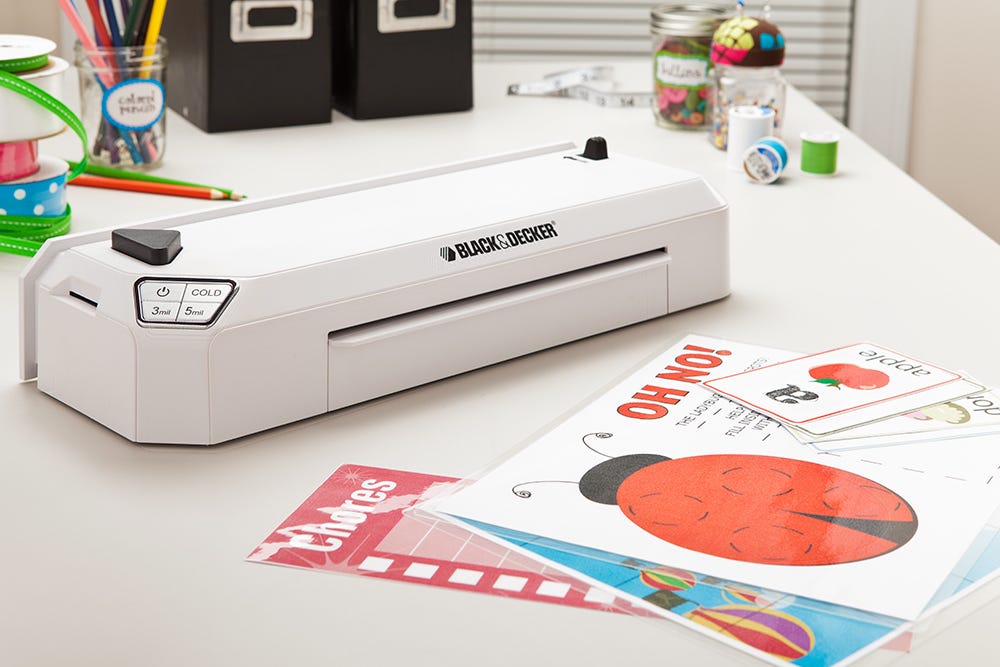 ---
Finding a place to store all those classroom supplies and high school books can get overwhelming for any teacher. Put a smile on their face this school year by gifting them with reusable tote bags where they can store any extra supplies or easily file away paperwork! They can even take them home and use them for their own personal use. You can even gift them one with a personalized, inspirational message to help get them through the week!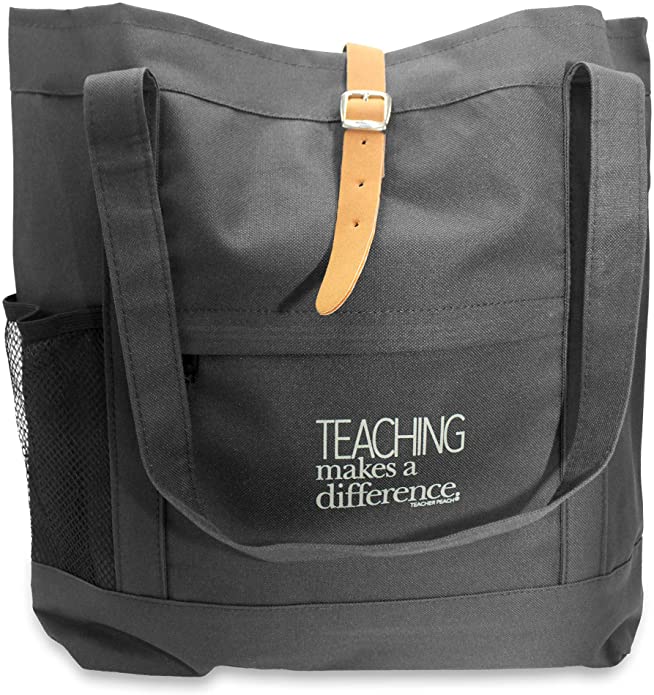 It's said that the best gifts come from the heart. While that may be true, the best gifts are also the most practical and reliable. If buying for a teacher is on your to-do list this upcoming school year, then giving any of the above supplies will show just how much thought you put into it. You don't have to wait for Teacher Appreciation Week or a holiday season to show your appreciation for a teacher!