Should we laugh at ourselves now or later for trying to make goals for 2020 at the end of 2019? Little did anyone know what kind of year 2020 would bring; it's no secret that any goal, whether it be work or personal, has probably gone out the window. And you know what? That's okay! Just getting through the last few days of this year will be a goal within itself. So, with that being said, let's kiss 2020 goodbye (in a major way) and start 2021 with fresh eyes, clear minds and new goals!
We know most of you have transitioned to working from home and that this transition can be hard when you're not in the physical presence of your colleagues or when your family is constantly by your side. Being in a different atmosphere other than your office can lead to overworking or can create distractions that stray your thoughts away from the work you need to get done. Working from home can also easily blur the lines between home life and work life. The Bostitch Office team wants to help you stay on track in 2021 by providing our own office goals to help successfully get through the new year.
Organizing and Improving Your Desk Setup:
Our Senior Marketing Manager Kalen is ready to start 2021 with a clear mind and a clean desk. "I want a space that helps enhance my workflow, not inhibit it. That's why I'll be focused on getting the right accessories, supplies, and technology to create a clutter-free space with all of my essentials in reach." Keeping a clean office or home office can be challenging, especially when it comes to a busy schedule. It's easy to let stacks of loose papers pile up and you may even find yourself frantically searching for your favorite office supplies.
Keeping your desk organized from loose monitor wires and pens and pencils can also be tricky but have no need to fear because desk organization is here! Our Desktop + Cable Management System is here to help you and all your workspace needs. The 21.5" cord management rail mounts to the edge of your desk and hides messy, unsightly wires as it routes them through the back and sides. No more bundle of tangled wires. Plus, it securely docks all our Konnect™ desktop accessories, keeping them an arm's length away!
Rose, our eCommerce Manager, agrees that maintaining desk organization can be tricky when you're constantly balancing work and parenting, all while working from home. Her biggest desk downfall? "Trying to keep only one empty cup on my desk at a time." With our new Stackable Organizer + Power System line, you'll never have to worry about clearing space for non-work related essentials. The modular design allows for each item to be stacked together for convenience, or even used separately! Our new line includes a power hub, stackable storage trays, accessory trays and pencil cups!
We know that desk organization is pertinent to a successful work day but what about the way your desk is set up? Having a poor desk set up can leave you with a sore back, neck, and shoulders, while also prohibiting you from your everyday work functions. Addressing these common concerns of working and sitting at a desk all day, we've launched a new line of Monitor Risers and Sit Stand Desk Workstations that will help you function better at work while also supplying you with tons of ergonomic benefits. Shifting from sitting to standing while working at your desk can make a difference in your posture, circulation, and even help with concentration. One goal that our Digital Designer Marieke has in mind is moving more during the workday. "Getting a Fitbit has made me aware of how much more I need to be moving throughout the day. I'd like to take advantage of a sit-stand workspace to alleviate sitting all day and be more proactive about meeting my daily steps and movement goals, whether that means taking a walk outside or laps around the office!"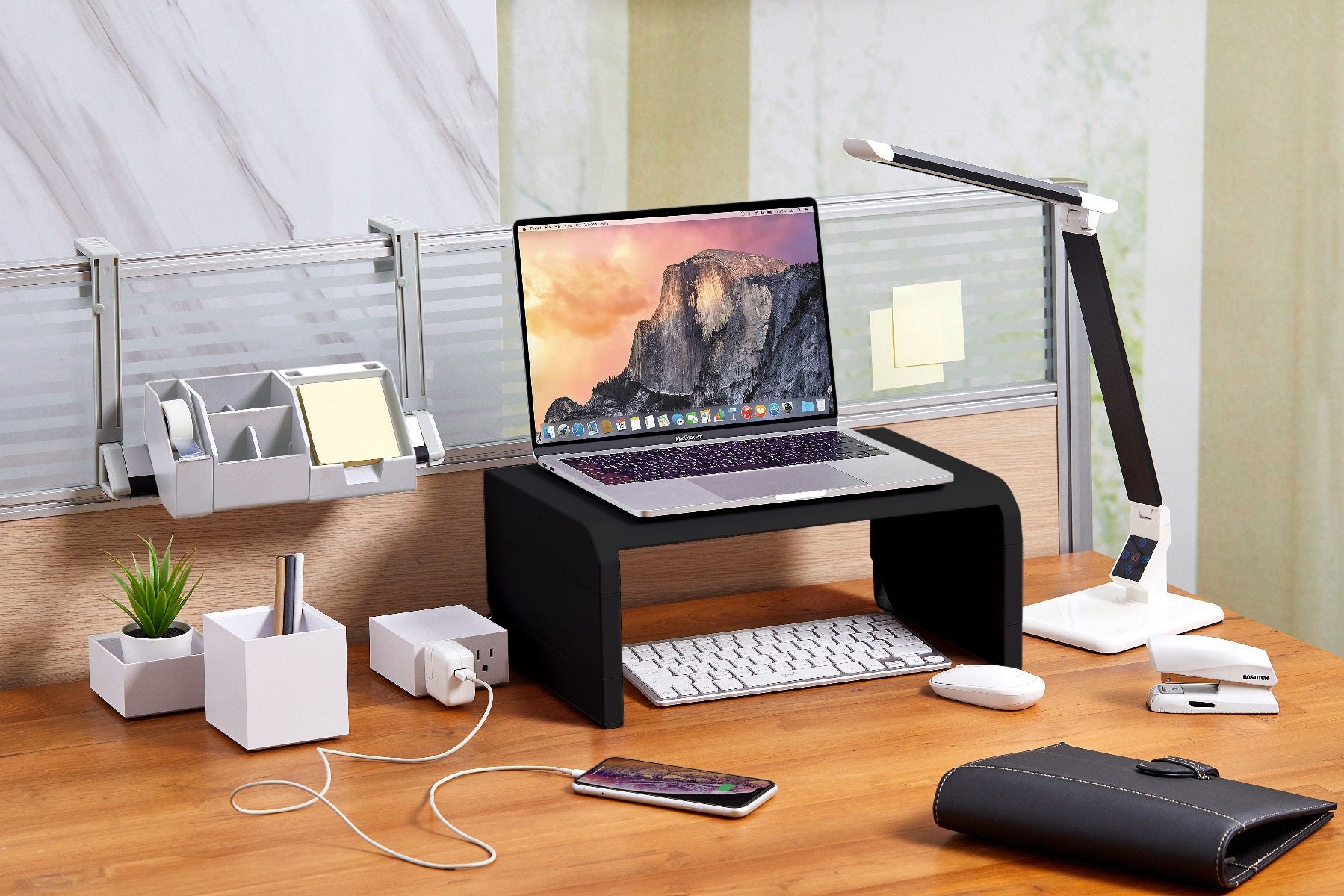 Finding the Balance in Work/Life Balance
:
In today's environment with the constant overstimulation we endure with the media, smart devices, and high stress working environments, it can be easy to find yourself becoming overanxious. You may even feel like you have been losing quality time for yourself while trying to keep up with the everchanging environments and technologies of today. If you find yourself constantly trying to fit everything in on your busy schedule, meet tight deadlines, or find yourself being distracted rather than being able to live in and enjoy the moment, you might want to think about reclaiming your mental and physical space. One way that our Graphic Designer Suzy is implementing this in the new year is to turn work notifications off when she's not working. "Working from home has made my work and life balance a little more difficult to separate. I sometimes answer emails late at night or check team chats when I'm bored. Being a hard-working employee is important to me, but separating work and my personal life is also significant. For the new year, my goal is to work from my scheduled hours of 9-5, and when I'm not working to turn off team and email notifications, so I am not tempted to start working again."
Whether you're working from home or working at the office still, finding a work/life balance can be very challenging, especially when there is always another task or deadline looming overhead. Our Content Marketing & Events Manager Jaclyn notes that her biggest office goal for the new year is to start taking more vacation time. "One goal of mine is to start taking advantage of my allocated vacation time and not saving it all for the end of the year or thinking that work is too busy to take a vacation because work will always be there." Although many of us probably didn't get to vacation this year like we had originally planned, it's best to make sure you're taking vacation time, whether you're traveling or having a staycation at home.
Joe, our Senior Channel Manager is making a note to "take time to catch up with co-workers and improve communication across team members. Personally, would like to improve my overall happiness and make sure I take time for myself when needed." Although it's easy to fall into the rut of creating the same goals every year for yourself, try making goals that will help improve your quality of life. From focusing on trying something new every week like volunteering, to learning a new skill that's outside of work, these optimal changes can help you find that not-so-far away balance between work and life that will make you all the more happy in 2021.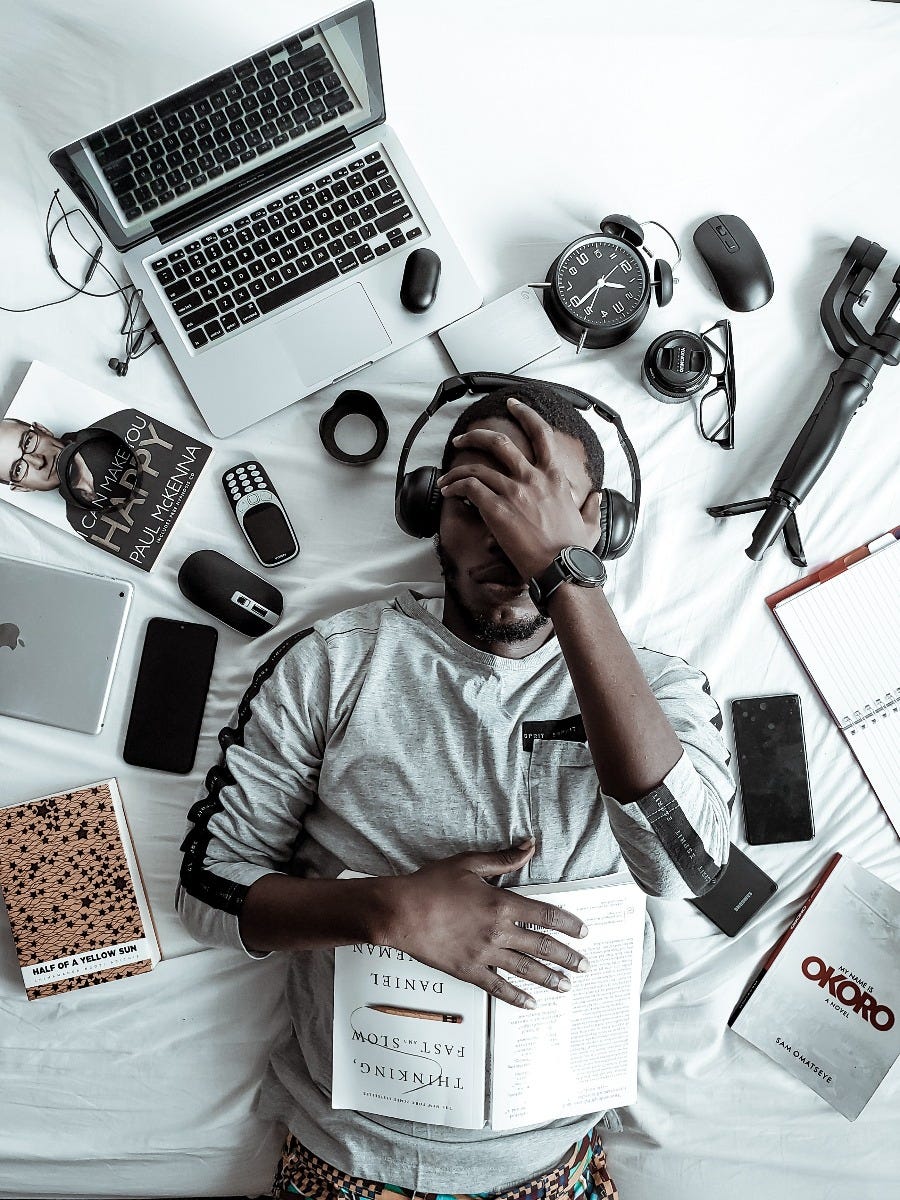 Prioritizing Your Work and Professional Development
:
It's hard to stay on top of your work, especially when working from home, as we all know how easily kids, pets, laundry and cleaning can take precedence over work. Suddenly those deadlines seem to approach more quickly than they did when you were working in the office. Not only is it important to stay on top of your tasks but taking the time to become an expert at your craft is also an important part of your role. We know you're asking, "but who has the time?" Creating a weekly schedule to help you stay on track with your work, will not only help you have a more productive work week, but it will also allow you to schedule in that important professional development time, too.
Our Channel Marketing Manager Jess always tries to think outside the box when it comes to her professional goals. "Every new year brings exciting new plans and goals and it can be tough to keep track of them all. So, to stay focused and motivated, I jot down my top 3 professional goals for the year on a sticky note and stick it to the bottom of my monitor so I can see it every day. When I sit down in the morning, I look at the goals and plan out my tasks for the day and try to keep it aligned with my goals as much as possible. And if I find a lot of tasks are keeping me from reaching my goals, it's a great exercise to try and think outside of the box and find a way to get myself on the right track."
Brenda, our Creative Marketing Manager agrees that scheduling her work week to allow time for professional development is a key goal to accomplish in 2021. "Scheduling time throughout the workday for professional development activities such as tutorials & webinars to continue growing my design skills. There is always room for improvement, just need to make time in the day to focus on it and not let distractions get in the way." Knowing how important webinars and virtual trainings are to professional growth and development, our Associate eCommerce Manager, Alyssa is vowing to "better balance my everyday work with trainings and webinars so I can stay on top of best practices and new trends!"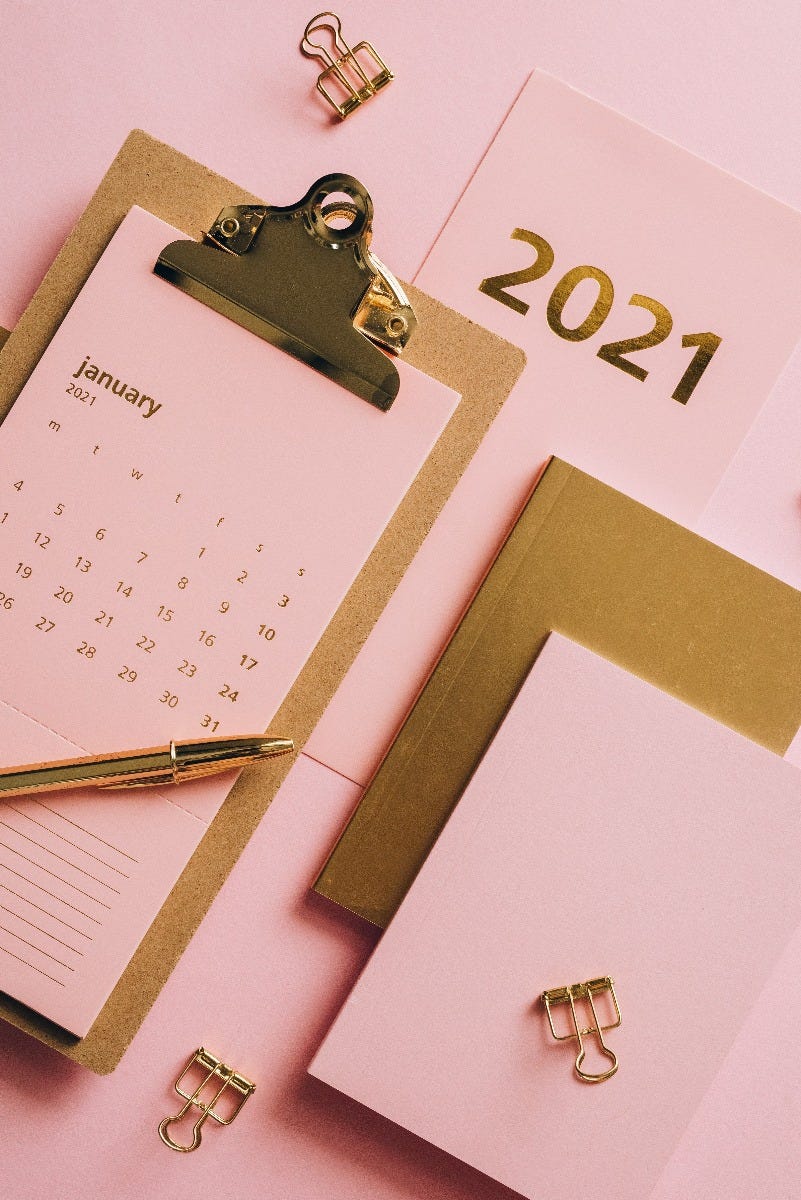 It's time to say goodbye to being overwhelmed and unprepared as you take on the new year with full force! Let us know if any of our office goals for the new year inspired any of your goals by tagging us on Twitter (@bostitchoffice).