Extended blade holds tape after cutting for convenient one-hand dispensing
Includes a one (1) roll of 3/4" of premium single-sided office tape
Compatible with any standard roll of standard office tape
Lightweight, slim design compliments any desktop
Can be docked to the Konnect™ Cord Management Rail or used alone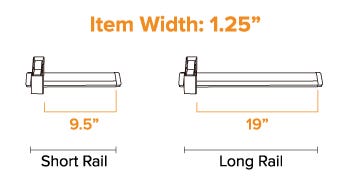 Description
A tape dispenser is just a tape dispenser, right? Wrong. Our Konnect™ version is so much more! Many standard tape dispensers are heavy and bulky. Yet, this one is lightweight and slim, standing only 3.5 inches tall and 1 inch wide. Compatible with any roll of standard office tape, it comes with a 3M single roll to get your work started! The extended blade stops the edge of the tape roll from sticking to itself - and we all know how frustrating that can be. One hand dispensing made easy! This gray desktop unit looks great on its own, but we love that attaches to the Konnect™ Cord Management Rail. It secures the dispenser to avoid movement and looks stunning paired with other Konnect™ accessories.
ABOUT KONNECT:
Caught up in the chaos of clutter and cords? Move it, stack it and manage it with the Bostitch® Konnect™ Workspace + Cable Organization System—the ultimate cure for desktop disaster. By integrating our patented cable management rails, power solutions and innovative storage accessories, the Konnect™ System helps users organize, customize and optimize their workspaces.
Specifications
MODEL NUMBER: KT-TAPE-GRAY
COLOR: Gray
HEIGHT: 3.5"
LENGTH: 3.5"
WIDTH: 1"
MATERIAL: ABS
TAPE BRAND: 3M
TAPE WIDTH: 3/4"