Extended blade holds tape after cutting for convenient one-hand dispensing
Includes a one (1) roll of 3/4" of premium single-sided office tape
Compatible with any standard roll of standard office tape
Lightweight, slim design compliments any desktop
Can be docked to the Konnect™ Cord Management Rail or used alone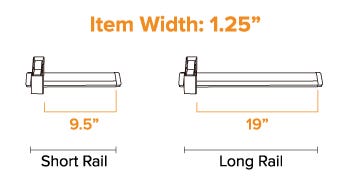 Description
We know that losing the end of a tape roll and is frustrating - that's why we created our own tape dispenser! With an extended blade to hold the tape after cutting it, you will no longer have to fish out the end. Easy taping calls for easy dispensing! This navy blue tape dispenser is slim and lightweight, perfect for any office or classroom desktop. Standing 3.5 inches tall, it holds any standard roll of office tape. To keep you ahead of schedule, it comes with one roll of 3M single-sided tape! Craft or get down to business with this easy-dispense tape holder. Like any tape dispenser, it can be used on it own. Though, this unit is unique as it's a part of the Konnect™ Workspace and Cable Organization System. That means it can be docked to a Konnect™ Cord Management Rail for greater desktop structure. Add to the rail with other Konnect™ accessories and have the most stylish office in the building!
ABOUT KONNECT:
Caught up in the chaos of clutter and cords? Move it, stack it and manage it with the Bostitch® Konnect™ Workspace + Cable Organization System—the ultimate cure for desktop disaster. By integrating our patented cable management rails, power solutions and innovative storage accessories, the Konnect™ System helps users organize, customize and optimize their workspaces.
Specifications
MODEL NUMBER: KT-TAPE-BLUE
COLOR: Blue
HEIGHT: 3.5"
LENGTH: 3.5"
WIDTH: 1"
MATERIAL: ABS
TAPE BRAND: 3M
TAPE WIDTH: 3/4"