Extended blade holds tape after cutting for convenient one-hand dispensing
Includes a one (1) roll of 3/4" of premium single-sided office tape
Compatible with any standard roll of standard office tape
Lightweight, slim design compliments any desktop
Can be docked to the Konnect™ Cord Management Rail or used alone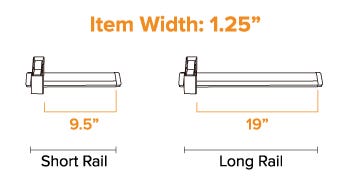 Description
This tape dispenser is designed for use with your Bostitch Konnect™ Cord Management system. Each modern, white dispenser comes ready for use with a roll of 3/4" premium single-sided office tape. When it comes time to refill your roll, the design of the dispenser is compatible with any standard office tape. To use this slim tape dispenser, simply dock it to your Konnect™ cord management rail. An adhesive pad underneath the dispenser ensures it stays firmly in place during use. In fact, you can grab a piece of tape easily with one hand and not have to worry about the dispenser moving from it's place. This accessory is just one of the many compatible with the Bostitch Konnect™ system. Be sure to check them all out!
ABOUT KONNECT:
Caught up in the chaos of clutter and cords? Move it, stack it and manage it with the Bostitch® Konnect™ Workspace + Cable Organization System—the ultimate cure for desktop disaster. By integrating our patented cable management rails, power solutions and innovative storage accessories, the Konnect™ System helps users organize, customize and optimize their workspaces.
Specifications
MODEL NUMBER: KT-TAPE-WHITE
COLOR: White
HEIGHT: 3.5"
LENGTH: 3.5"
WIDTH: 1"
MATERIAL: ABS
TAPE BRAND: 3M
TAPE WIDTH: 3/4"